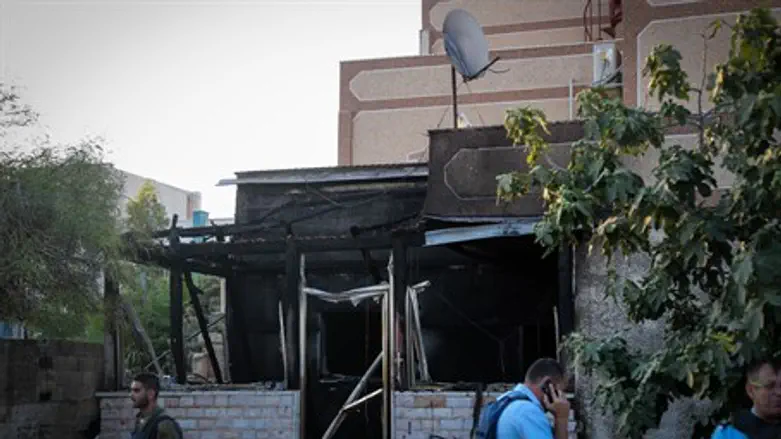 Duma arson (file)
Flash 90
MK Oren Hazan (Likud) on Monday called for a thorough investigation following the fire last night, which burned a house in the Arab village of Duma belonging to the brother of a resident whose house was the target of lethal arson attack last month.
Palestinian Authority (PA) security forces who investigated the home in Samaria, which belonged to a member of the Dawabshe family, said it was caused by an electrical malfunction. However, unconfirmed reports indicate an ongoing internal dispute in the town may have played a role.
"There is information on a conflict of hamulot (Arab clans - ed.), the Shabak (Israel Security Agency) with Palestinian security sources must investigate the motive of the previous arson and provide answers quickly," wrote Hazan on his Twitter account.
Hazan's comments come amid speculation that last month's lethal arson, in which a father and his infant son were murdered and which was quickly blamed on "Jewish terrorists," may in fact have been the outcome of a local dispute, suspicions strengthened by several odd details regarding the case.
Hamas lost no time on Monday claiming that Jewish "settlers" had attacked Duma in a second arson attack. An Israeli security source responded, telling Arutz Sheva that the terror group is actively attempting to use the incident as a cynical tactic to provoke further attacks against Israelis in the area.
The lethal arson last month was followed by a slew of Arab terror attacks, including attempts to burn down Joseph's Tomb, an apparent arson southeast of Jerusalem that released asbestos-laden ash on wide swathes of the city, a near-lethal firebomb attack in Jerusalem's Beit Hanina, and numerous other attacks of varying degrees.