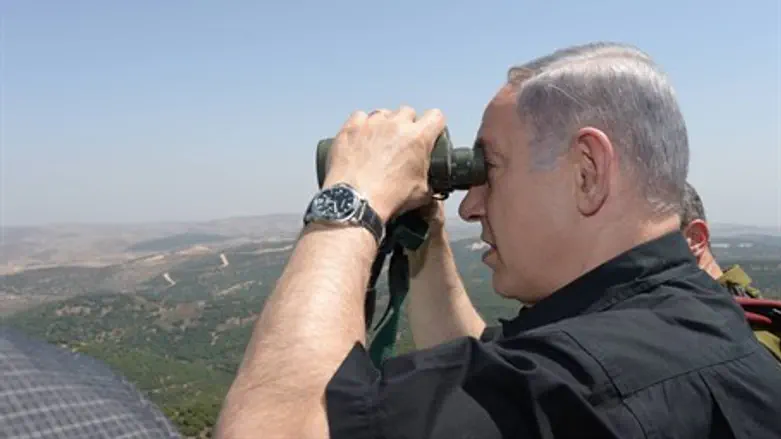 Binyamin Netanyahu in northern Israel
Amos Ben Gershom/GPO
Prime Minister Binyamin Netanyahu released a statement on Friday, shortly after the IDF airstrike that took out the Islamic Jihad terror cell backed by Iran that launched four rockets into Israel from Syria the day before.
"I said this week that those who try to harm us - we will harm them. And that's what we did," said the prime minister.
"The IDF struck the cell that conducted the (rocket) fire, and the Syrian forces that enabled it. We don't intend to escalate the incidents, but our policy remains as it was," he said. At least 14 targets were hit by the IDF overnight, including a strike on an army post which Syria said killed one soldier.
Turning his attention to the IDF reports that Iranian military sources funded and directed the Islamic Jihad cell, Netanyahu condemned the world powers that sealed a nuclear deal with Iran just last month and are now advancing economic trade and diplomatic ties.
"The countries that rush to embrace Iran need to know that an Iranian commander is the one who gave the cover and direction to the cell that fired on Israel," he said.
As noted by Netanyahu, the one who gave the order for the rocket strike was said to be the head of the Palestinian department in Iran's Al-Quds force, the covert foreign operations unit of the Iranian Revolutionary Guards.
Netanyahu on Friday ordered the Foreign Ministry to send an official letter to Western governments, saying Israel has "reliable information that this attack was carried out by the Palestinian Islamic Jihad, ordered directly by the Iranian terrorist Said Izadhi of the Iranian Revolutionary Guards."
"This is further clear indication of Iran's increasing involvement in attacks against Israel in particular and against regional targets in general. The ink on the nuclear agreement has not yet dried, and this attack shows clearly how Iran plans to act the moment after the international sanctions are removed."
The attack ordered by Iran comes after a report in April, when  Iranian officials reportedly told the Syrian regime to strike Israel and open a war front on the Golan Heights.