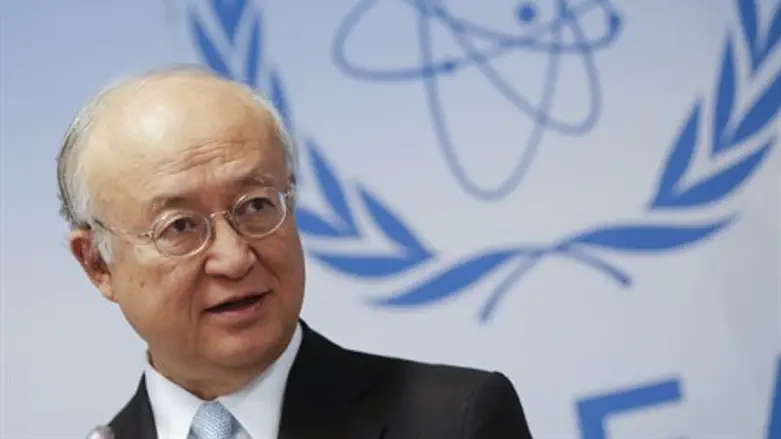 IAEA Director General Yukiya Amano
Reuters
The head of the UN's nuclear watchdog said Thursday he was "disturbed" by inaccurate claims that inspections of Iran's nuclear facilities will be the responsibility of the Iranians themselves.
"I am disturbed by statements suggesting that the IAEA has given responsibility for nuclear inspections to Iran," International Atomic Energy Agency chief Yukiya Amano said in a statement quoted by AFP.
"Such statements misrepresent the way in which we will undertake this important verification work," added Amano.
He said the IAEA's arrangements with Iran are "technically sound and consistent with our long-established practices. They do not compromise our safeguards standards in any way."
"The Roadmap (agreement from July) between Iran and the IAEA is a very robust agreement, with strict timelines, which will help us to clarify past and present outstanding issues regarding Iran's nuclear program," said Amano.
He added the arrangements with Iran were "confidential and I have a legal obligation not to make them public -- the same obligation I have for hundreds of such arrangements made with other IAEA Member States."
Amano was reacting to a report by The Associated Press on Wednesday, allegedly citing a confidential draft agreement regarding Parchin military base, which suggested that only Iranian inspectors would investigate the site and would provide the IAEA with pictures and video from inside.
Iran is alleged to have carried out explosives tests at Parchin relevant to developing an atomic weapon. The claims are part of a wider IAEA probe into the "possible military dimensions" of Iran's nuclear program.
Iran, which agreed a landmark deal with major powers in July to downscale its nuclear activities in exchange for relief from sanctions, denies seeking or ever having sought nuclear weapons, calling the allegations bogus.
Wednesday's report drew condemnation from Jeb Bush, Republican presidential hopeful who denounced the wider Iran deal as "a farce".
"Nuclear inspections of state sponsors of terrorism can't work on the honor system," he said, according to AFP.
But Ned Price, a spokesman for the White House's National Security Council, said Washington was "confident in the agency's technical plans" for its investigation into Iran's activities.
A Western diplomat in Vienna said he believed the arrangements between Iran and the IAEA regarding Parchin were "still under review."
"We are very confident in the agency's ability to do its job," the diplomat said, according to AFP.
Iran has already handed over documents linked to its previous nuclear activity, and has claimed that alleged "clean-up" activities in Parchin that were recently uncovered are "road construction".
The well-respected Institute for Science and International Security, however, questioned Iran's claims.