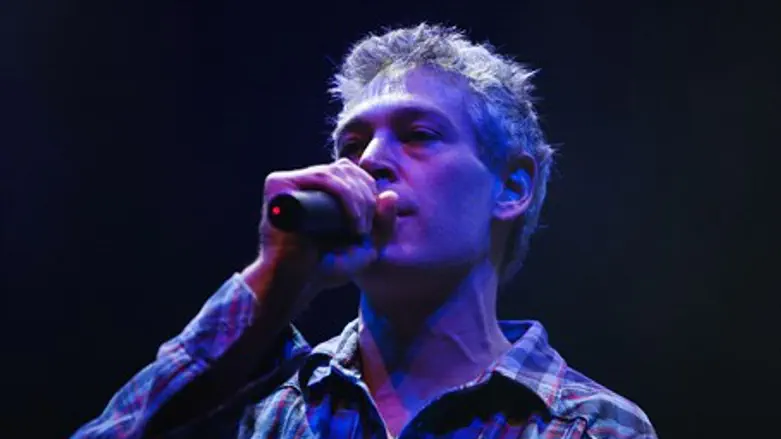 Matisyahu
Thinkstock
BDS Pais Valencia, the Spanish organization that led the campaign which had Jewish reggae star Matisyahu banned from a local festival, issued a truly confusing statement after the festival apologized and re-invited the singer.
The Rototom Sunsplash European reggae festival apologized this week for demanding Matisyahu publicly support the Palestinian Arabs against Israel as a condition to performing, a condition he refused. The festival noted that the BDS group pressured it to cancel his performance, adding that it threatened to disrupt the festival if Matisyahu participated.
In a statement released Wednesday, BDS Pais Valencia attempted to justify its actions against Matisyahu - who is not even Israeli and stopped being an observant Jew in 2011 - and in doing so made a very confusing excuse, saying it's actions weren't even part of BDS.
Point six of the statement reads: "while the media has portrayed this effort as part of the global Boycott, Divestment and Sanctions (BDS) movement, we wish to make clear that our efforts are outside the remit of the cultural boycott of Israel as per the guidelines issued by the Palestinian Campaign for the Academic and Cultural Boycott of Israel (PACBI)."
"BDS calls for boycotts against Israeli institutions that are complicit in Israel's violations of international law, not against individuals. Unlike the cultural boycott movement against apartheid South Africa, the Palestinian-led BDS movement does not call for boycotting individual artists, academics, etc."
The irony of a BDS group claiming its boycott wasn't part of BDS was not lost on the NGO Honest Reporting, which sarcastically responded: "so wait, according to this, the perception that this is a BDS campaign is just a product of the media?"
"Might not people assume it's BDS on their own simply because it's run by a group with BDS in its name and aims to boycott an artist for alleged sympathies to Israel?"
The NGO further pointed out the absurd logic behind the claim that the boycott campaign isn't part of BDS simply because BDS's guidelines warn against such actions.
"If you're a BDS group and you run a boycott campaign, what difference does it make what it says on the BDS site? If those words don't guide the actions of the people on the ground, do they meaning anything?," posed Honest Reporting.
Further indicating how BDS does in fact target individual artists is the case of the Oslo film festival, which just recently rejected an Israeli film because it didn't address the Israeli-Palestinian conflict. 
Ketil Magnussen, founder of the festival's parent company the Oslo Documentary Cinema, told the Israeli filmmaker "we support the academic and cultural boycott of Israel."
The incident further illustrates how BDS does indeed target Israeli artists or even pro-Israeli artists, regardless of what the movement's official site may say.