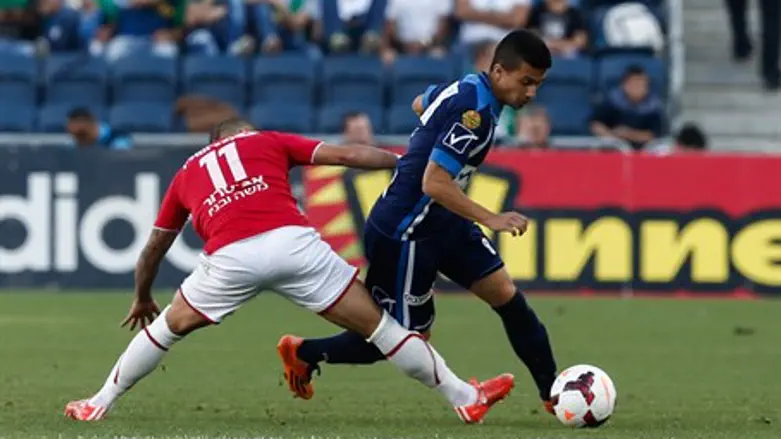 Hapoel Afula vs Hapoel Be'er Sheva
Yonatan Sindel/Flash 90
Soccer players who appealed to the Labor Court against a decision by the National League management to hold games on Shabbat scored a victory Thursday.
Labor Court Judge Arielle Giltzer-Katz decided in favor of the players and informed management that since it lacked a permit for working on Sabbaths, it would be breaking the law by doing so.
The players had requested that a temporary prevention order be issued against the plan to hold a game between Moadon Sport Ashdod and Bnei Lod on Saturday at 4:30 p.m..
MK Miki Zohar (Likud), Chairman of the Subcommittee on Sport, was happy with the decision.
"I applaud the judge for reminding us all that working on Shabbat in the [soccer] league is a criminal deed, to all intents and purposes. The bill I submitted, which calls on soccer clubs to observe the Sabbath, has been proven to be correct and good because it will prevent such absurd situations in the future, and will allow athletes to keep the day of rest they deserve by law."
"It is not possible that in the Jewish and democratic state of Israel, a Jew will be forbidden from keeping the Sabbath. It is not for nothing that the matter is anchored in law, and management's attempt to force the players to play on Sabbath is a criminal act."
Guy Dayan, midfield for the Hapoel Afula soccer team, took to Facebook on Wednesday to strongly condemn the decision by the League management to move major games to Shabbat.
"I say 'G-d is One and His name is One forever,' and only He can decide what will be and when, and none of the puppets on TV," he declared. "Don't play soccer on Shabbat!"