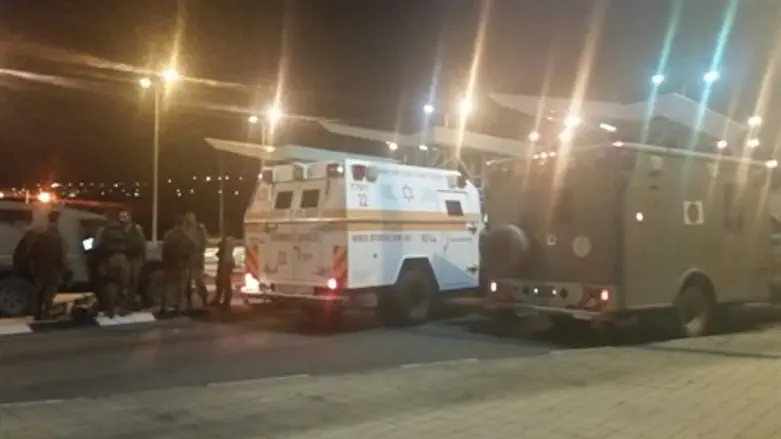 Scene of the explosives attack
Arutz Sheva
The IDF reported on Wednesday night that an explosives attack took place on a military post on the tunnel road leading out from Jerusalem to the south, towards Gush Etzion in Judea. 
According to the IDF statement an explosive was hurled by Arab terrorists at a lookout post, with the shrapnel moderately wounding a soldier in the eye. The soldier is conscious. He received medical treatment by crews on the scene before being evacuated to Hadassah Ein Kerem Hospital in the capital.
Arutz Sheva was on the scene to show the checkpoint where the attack occurred.
The Arab terrorist fled the scene, and large forces have been deployed to track him down, with the searches extending as far as Bethlehem.
Labor chairman MK Yitzhak Herzog responded to the terrorist attack and said, "I wish a full and quick recovery to the soldier who was wounded in the attack. There is no compromise against terror and I said that to [PA chairman] Mahmoud Abbas yesterday. Whoever harms Israelis - his blood be on his own head."
The attack follows several others, as just hours earlier a two-year-old girl was lightly wounded in a rock attack as was another man. The attack took place on Highway 443 to the northwest of Jerusalem.
Just a few hours before the rock attack Arab terrorists in the neighborhood of Isawiya in eastern Jerusalem threw firebombs and rocks at police officers, wounding one officer lightly with a firebomb.