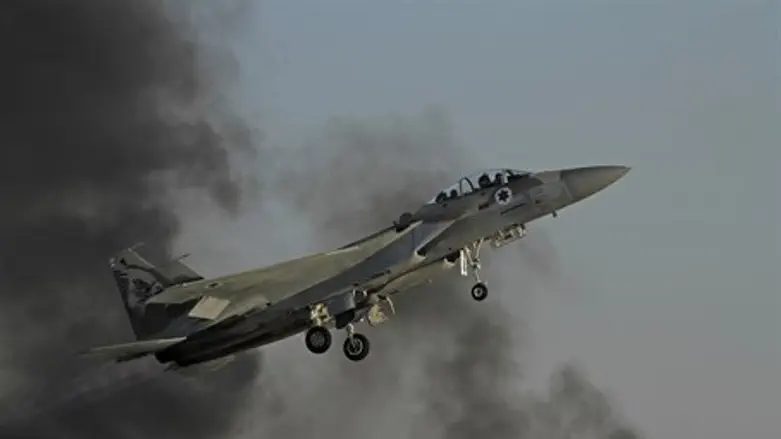 IAF F-15I fighter jet (illustration)
Flash 90
Iran's Defense Minister Brig. Gen. Hossein Dehqan on Tuesday gave a run-down of the army's upcoming military buildup, and revealed that a new fighter jet announced in February has been delivered to the Iranian Air Force.
Dehqan said the domestic double-cockpit supersonic Saeqeh 2 jets - whose name means "Thunderbolt" - have been deployed, reports the semi-official Fars News Agency.
The jet, unveiled in February, is meant to be capable of tracing American and Israeli fighter jets according to the paper, which cited a senior Air Force commander Col. Houshang Monfaredzadeh saying as much back in February.
"Saeqeh 2 fighters have been delivered to the Air Force and a training jet has also been tested and is ready for manufacturing," Dehqan announced on Tuesday in time for National Defense Industry Day.
He also spoke about Iran's ballistic missile program, which it is preparing to test while flouting UN resolutions concerning the missile tests in context of the Iran nuclear deal.
Speaking directly about the upcoming ballistic missile drills, he said they will not be stopped by the UN Security Council resolution.
"We are working on increasing our missiles' precision and want to make them impenetrable to electronic warfare and interception," he said.
He added that long-range ballistic missiles with multiple reentry vehicle payloads have been domestically produced, saying, "we are after turning our ground-based missiles into air-launched missiles."
Turning his attention to the advanced S-300 anti-missile system from Russia, which Dehqan said would be transferred by next week, he said Tehran has requested 3 batteries of the system and a fourth system has recently been added to the order.
It is estimated that the advanced system would be able to thwart a strike against Iran's nuclear program.
Dehqan spoke about the Iranian Navy as well, saying "a new 500-ton subsurface vessel will join the Navy this year and we will take other steps to develop heavy subsurface vessels in future."
"We are also working on the phased-array radars and are on the path to make them passive systems," he said of attempts to make Iran's analog wireless systems digital.
Finally he spoke about Iran's various drones for combat, reconnaissance and surveillance, which he said has brought customers from various countries without elaborating which states.