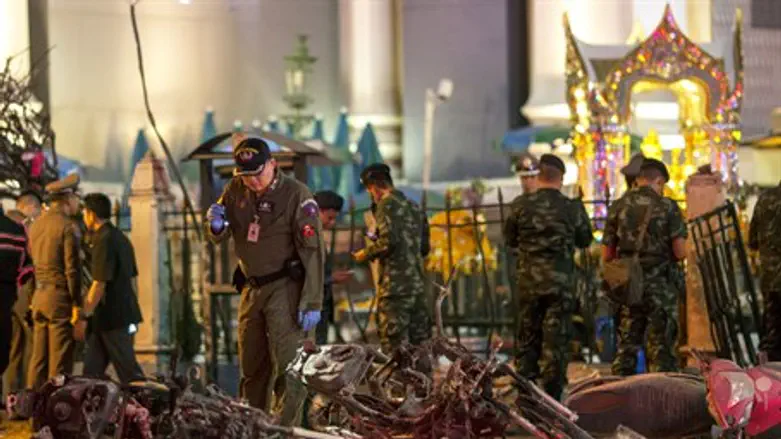 Thai police investigate site of Bangkok bombing
Reuters
Police in Thailand have identified a suspect in Monday's terrorist attack in the heart of the capital Bangkok, which killed at least 21 people and left dozens wounded.
A large bomb was detonated next to the Erawan Hindu shrine in central Bangkok, a major attraction which also draws a large number of Buddhist worshipers and other foreign tourists from around the world.
Thailand's Prime Minister Prayuth Chan-ocha has described the attack as the "worst ever" to hit his country.
The bomb, which investigators say was a pipe bomb, was clearly meant to cause as many casualties as possible, particularly among foreign tourists. It was timed to go off at the peak of rush hour.
Witnesses at the site described a horror scene of mangled body parts and pools of blood.
Authorities say they have yet to uncover a clear motive for the attack, although Thailand is currently facing a Muslim insurgency in the south. However, Thailand's army chief said the attack does not match the tactics used by insurgents, who have tended to limit their violent campaign to the areas they are claiming for an independent state.
owever Prime Minister Prayuth said police had identified one potential suspect "who appeared on CCTV but it's not clear."
"This is the worst incident that has ever happened in Thailand," the PM said. "There have been minor bombs or just noise, but this time they aim for innocent lives. They want to destroy our economy, our tourism."
Meanwhile, Israeli government officials say no Israeli citizens were harmed in the attack. Thailand is a popular destination for Israeli tourists and Iranian-sponsored terrorists have tried to attack Israeli backpackers there in the past.