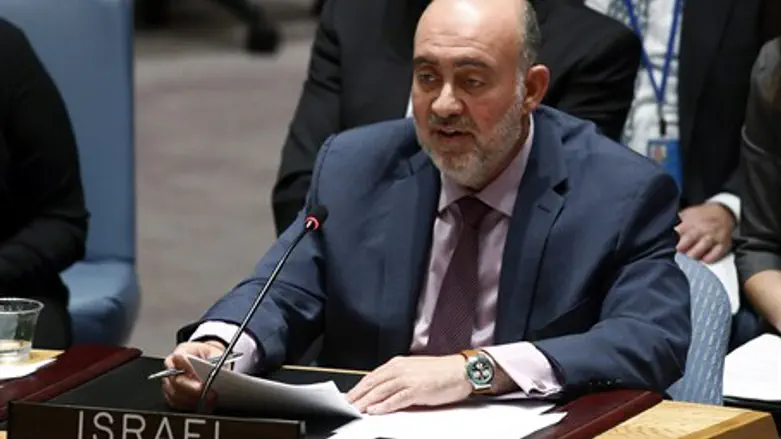 Israel's Ambassador to the United Nations Ron Prosor
Reuters
Israel's ambassador to the UN, Ron Prosor, on Monday night called on UN chief Ban Ki-moon and on the Security Council to condemn the latest series of terrorist attacks against Israelis.
"One can begin to identify a trend of terrorists posing as people who need help, taking advantage of the humanity of their Israeli victims, and try to take their lives. No moral person would accept such a crime," Prosor said, referring to a terrorist stabbing attack that was thwarted Monday near the town of Tapuah in Samaria, in which the terrorist approached Border Patrol fighters saying he didn't feel well and, when asked to approach the officers, drew a knife and tried to stab one of them.
"Once again, the Palestinian leadership responds with silence, while unequivocal condemnation of the violence on its part is necessary," continued Prosor.
"I call on you to condemn the series of attacks immediately and to publicly demand that the Palestinian Authority condemn the attackers and do everything possible to prevent such incidents in the future," he concluded.
Monday's thwarted attack followed two separate stabbings by terrorists on Saturday, in those cases targeting security forces.
The second of those incidents occurred close to the site of Monday's attack, when a terrorist stabbed a border police officer, wounding him in the back. Police quickly opened fire and killed the terrorist.
Earlier Saturday, an Arab terrorist stabbed a soldier near a checkpoint on highway 443 in Samaria. The soldier, who was lightly wounded, managed to draw his gun and wound the terrorist in the shoulder, after which he was taken into custody.
In that case as well, the would-be attacker managed to get close to his victim by asking for a drink.
The chilling tactic is often used by Palestinian terrorists against Israeli civilians as well as security forces.
In June, 25-year-old Israeli hiker Danny Gonen was murdered by an Arab terrorist, who gunned him down at point-blank range after luring him closer by asking for some water.