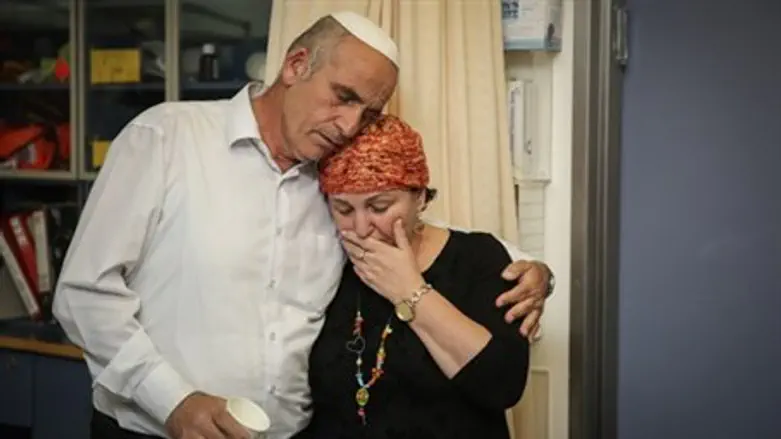 Eliezer and Sarah Rosenfeld
Hadas Parush / Flash 90
Eliezer Rosenfeld, the father of terror victim Malachi Rosenfeld, spoke with Arutz Sheva on Monday about why he and his family did not attend the military court hearing against the murderers of his son. 
"We can't bear to see their faces. We didn't want to give them the satisfaction of smiling at us or making the 'V" sign. It would only cause emotional harm and we have no interest in seeing the killers. We know from experience, work is done better when we're not there."
According to Rosenfeld, both military officials and legal advisers recommended the family not be present during the proceedings. 
But, when asked what sentence the family would like to see imposed on the terrorists, Rosenfeld was clear that the family hoped for the death penalty. 
"We would like the death penalty, even though there is a debate about whether it's good or not good, and the prosecution thinks it's not good and won't deter them and will only make them martyrs."
Justifying his belief in the use of the death penalty, Rosenfeld explained that "someone who has a death sentence won't be able to kill any more. But someone who doesn't, the chances he will return to murder are very high."
"A second reason is so there won't be [terrorists] released in all sorts of questionable transactions, because they didn't receive the punishment they deserved, " Rosenfeld added. 
"I also think it's a deterrent if the terrorist knows for sure he'll receive the death penalty. We won't need to feed them or worry about newspapers and family visits."
"An Arab mother when her son is sentenced to death is very worried and will think twice about how to raise and educate her children. There are those who say it's wrong, but I think to anyone with feeling and sensitivity, if they see they will be sentenced to death, they will think twice," Rosenfeld concluded. 
Malachi Rosenfeld was shot to death in late June outside Shvut Rachel in Samaria; two Palestinian terrorists were indicted Monday at the Ofer Military Court for the attack.