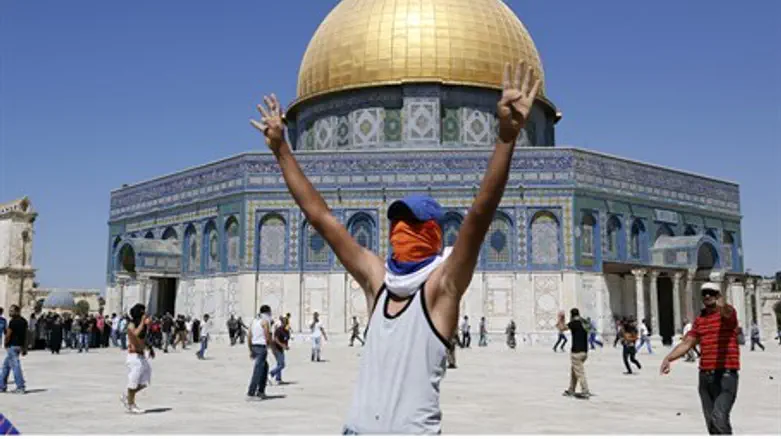 Arab rioters on the Temple Mount
Flash 90
Arab worshipers have begun protesting on the Temple Mount in Jerusalem on Friday, over the comatose state of a hunger-striking terrorist being held in Israeli prison. 
Several police units are at the scene, attempting to restore order, according to Maariv.
Terrorist Mohammed Allaan, who was being held in Israeli prison for his crimes, lost consciousness on Friday and he is being artificially respirated at Barzilai Hospital in Ashkelon. Allaan's strike is on its 59th day.
The "protestors" are allegedly demanding the Israel Police immediately release him. 
Several dozen Palestinian Arab prisoners held in Israeli jails launched a hunger strike last week to protest what they term as "humiliating treatment" from jailers and poor imprisonment conditions. Dozens more joined them on Sunday, bringing the total to about 180.
Arab terrorist prisoners have turned hunger striking into a pressure tactic aimed at forcing Israel to release them out of fear for their lives. Israel has several times in the past caved to the pressure and released some hunger strikers.
Some 1,550 Palestinian Arabs imprisoned in Israel ended a hunger strike in May 2012, in exchange for a package of measures which would allow visits from relatives in Gaza and the transfer of detainees out of solitary confinement.