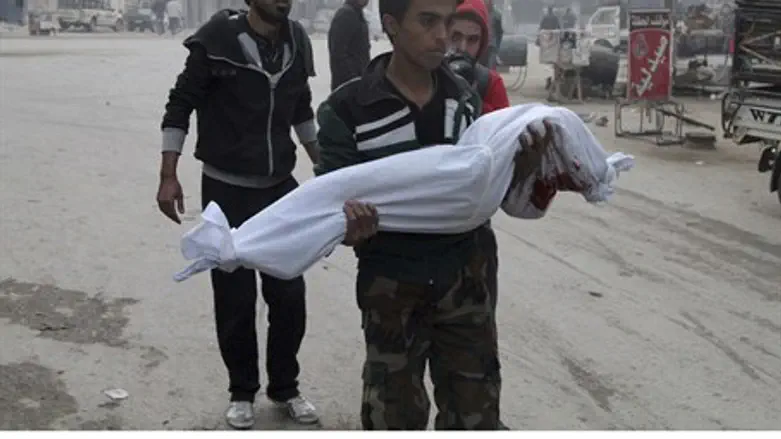 Child killed by barrel bomb in Aleppo (file)
Reuters
Syrian forces have dropped more than 2,000 barrel bombs across the country since July, killing hundreds of people, the US ambassador to the United Nations said Thursday. 
US envoy Samantha Power called for action to end the use of a type of improvised explosive that has particularly been targeted at the Damascus suburb of Darayya and the southwest region of Zabadani, near the Lebanon border.
"The Assad regime has apparently grown reliant on the repugnant use of barrel bombs as an instrument of terror against innocent Syrian civilians," Power said in a statement.
"It is long past time for the international community to come together to end the deplorable use of barrel bombs and all other forms of attacks against civilians in Syria."
The United States, France and Britain have repeatedly accused President Bashar al-Assad's forces of using helicopters to drop barrels rigged with explosives on civilian areas.
Power condemned the latest wave of indiscriminate bombings that have "killed hundreds of people and destroyed schools, mosques, markets, hospitals and ambulances."
The UN Security Council is discussing proposals for a resolution on barrel bombs that would increase the pressure on Damascus even though it adopted a resolution in February last year demanding an end to the attacks.
Human rights group say barrel bombs are the leading killer in the war, now in its fifth year, with more than 240,000 people dead.
AFP contributed to this report.