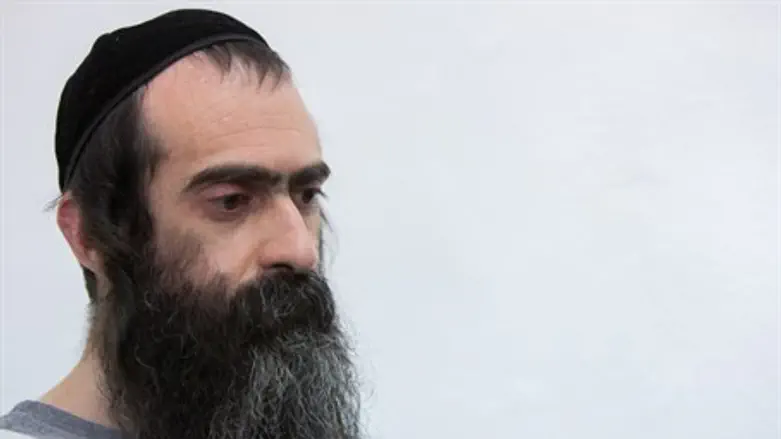 Gay pride stabber Yishai Shlissel
Yonatan Sindel/Flash90
Two-time gay pride parade stabber Yishai Shlissel suffered "a psychotic incident," Israeli news revealed Wednesday - and police still did not take this into account when he was released last month. 
In 2005, Shlissel stabbed a number of marchers at the Jerusalem gay pride parade, and was sentenced to ten years in prison. He was released in early July - just weeks before he did it again.
Shlissel may not be fit to stand trial, a Jerusalem Magistrates Court judge ruled earlier Wednesday, after he repeatedly refused to participate in legal proceedings despite being approached by the public defender's office. 
He has had a past history of psychotic episodes, as well, Channel 10 revealed Wednesday night. In March 2009, Shlissel was transferred to psychiatric care from prison, where he was then treated for a month and a half after being diagnosed as a paranoid psychotic.
After his release from intensive psychiatric care, he had to be treated for his condition by force, the news agency adds. It is unclear how the Israel Police and the Israel Security Agency (ISA) took this into account when gathering police intelligence before this year's parade, and the revelation raises questions about how thoroughly security forces prepared for the oft-controversial event.
Even beforethe parade, Shlissel was labelled by intelligence as a "danger to the event," the investigation also revealed. However, he was never summoned to report to police before or during the march and was never questioned before the fact regarding his intentions. 
The JerusalemDistrict Policeheld many discussionsbefore thegay pride paradein the capital, Channel 2 revealed Wednesday night, including several top officials.
During these meetings, top officers were presented with the names of six "exceptionally dangerous" individuals to watch closely before and during the event, due to concerns over injury to the marchers or disturbing the peace. One of these was Shlissel.
Photos of Shlissel were allegedly given to security officers guarding the event to allow them to scan for his presence in the crowd, but this still did not prevent the attack.
A top commander, who is not yet named by the press, testified Wednesday night that he told top officers to follow Shlissel closely before and during the event, and that the stabber was singled out for scrutiny due to his recent release from prison.
Last week's stabbing spree injured five people and fatally wounded 16 year-old Shira Banki. Banki was laid to rest Monday in an emotional ceremony with thousands of people in attendance.