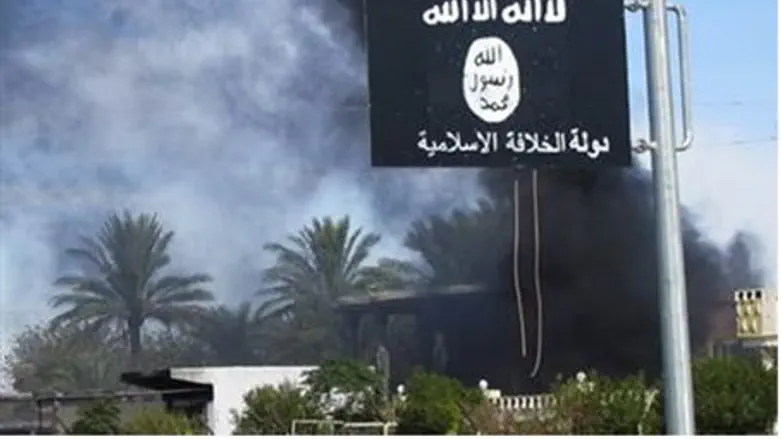 ISIS flag
Reuters
Britain is extending its air strikes against Islamic State (ISIS) group targets in Iraq by a year to March 2017, Defense Secretary Michael Fallon said in comments broadcast Tuesday and quoted by AFP.
The announcement represents a second reprieve for the squadron of ageing Tornado GR4 fighter bombers currently based in Cyprus which was due to be disbanded first this year and then next, and will now be kept on.
"We want to ensure we maintain this crucial operational tempo and so we will extend the lifetime of Number 12 Squadron for a further year to March 2017," Fallon was quoted as having told the BBC during a visit to Baghdad.
The Tornado jets are carrying out air strikes, reconnaissance and surveillance over Iraq as part of U.S.-led operations.
Britain is not currently taking part in air strikes on targets in Syria.
But Prime Minister David Cameron favors exploring a second vote to gain support for that later this year once the main opposition Labour party elects a new leader in September, noted AFP.
He hopes the new Labour chief could give him the support needed to get the move through the House of Commons, where he has a majority of only 12.
Parliament approved the Iraq air strikes last September.
Fallon said the rest of the international coalition "would welcome" the Tornado jets joining strikes against ISIS targets in northern Syria but that the British parliament would have to vote on the issue.
"At some point, the new parliament will have to reflect on the illogicality of our planes turning back, if you like, at the border while other countries fly on," he was quoted as having told the BBC.
Last month, two Brimstone missiles fell off a British Tornado as it landed at RAF Akrotiri in Cyprus, a staging post for sorties and surveillance against IS group targets in Iraq, after a military operation.
AFP contributed to this report.