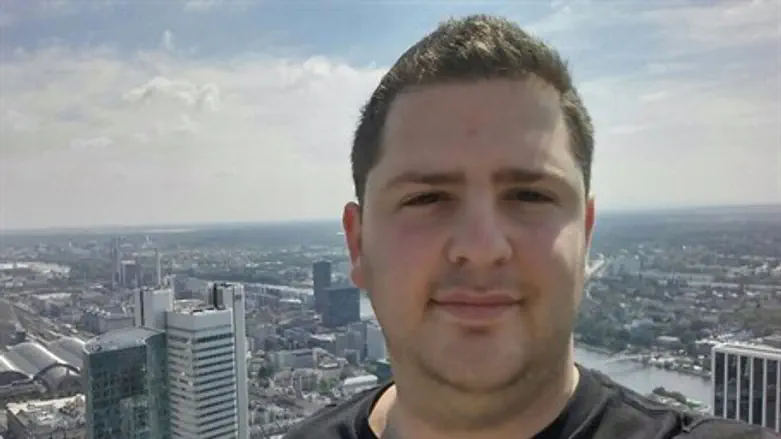 Dan Sela z''l
Courtesy of IDF Spokesperson Unit
The suffocating heat wave scorching the Middle East, which has seen Iran reach truly apocalyptic heat indexes, reached a high in Israel on Sunday - but on Tuesday it proved fatal as an 18-year-old new IDF soldier died from heat stroke.
The youth, who was identified as Private Dan Sela from Afula in Israel's north, was taking part in a tour with his unit in Jerusalem's Old City when he collapsed from the heat. He was evacuated to Shaare Tzedek Hospital, where doctors were forced to pronounce his untimely death.
IDF Ground Forces Commander Maj. Gen. Guy Tzur on Tuesday ordered that an investigative committee be established and headed by a colonel to look into possible negligence in the death of the soldier, who was a cadet in a squad commander course for general IDF recruits.
The IDF Spokesperson Unit said that IDF Chief of Staff Gadi Eizenkot has ordered all commanders to refresh and emphasize standard procedures for activities during an intense heat wave.
"The IDF takes part in the sorrow of the family and will join it in facing all that is needed," said the Spokesperson Unit.
A day of near disasters
A 59-year-old worker at a factory in Ma'ale Adumim to the east of Jerusalem was also incapacitated by the heat. He collapsed from the soaring temperatures and was evacuated in serious condition to Hadassah Mount Scopus Hospital.
A potential disaster was averted as Judea and Samaria district police rescue crews managed to located five female hikers who dehydrated in Nahal Prat (Wadi Qelt) located in the Judean Desert, adjacent to Ma'ale Adumim, in an area where temperatures soared to 41 degrees Celsius (105.8 Fahrenheit).
Three of the hikers were evacuated to Hadassah Mount Scopus Hospital in light to moderate condition, while the other two made it to the hospital themselves after suffering much milder dehydration.
A group of 200 yeshiva students touring Nahal Yagur in the north near Carmel also were caught in a bind due to the rising heat and a lack of water, with several of them suffering dehydration. Rescue teams managed to locate them after a search that lasted nearly an hour, and evacuated them from the scene. The dean of the yeshiva felt ill due to the ordeal and was evacuated for medical treatment.
The lethal and near lethal incidents come a day after a female infant dehydrated during a tour in the Jordan Valley with her family; her condition was classified as critical.
Also on Monday, a child was saved from certain death after being locked in a family car on Shachal Street in Jerusalem's central Givat Mordechai neighborhood.
Rescue teams were quickly called to the scene and broke into the car to free the child, who was sweating, red and in distress from the suffocating lack of oxygen and scorching heat. Fortunately the child did not suffer any wounds in the incident thanks to the quick actions of residents and rescue personnel.
According to the child's mother, she put him in the car and left the keys on the seat next to him. When she closed the door, the car locked itself automatically and prevented her from saving her son.
Friendly forecast?
The searing temperatures and enervating humidity aren't quite done, but they appear to be set to drop slightly.
Tuesday night is anticipated to remain very hot and muggy in the coastal district, the Shfela lowlands located slightly west of the coast, as well as the northern Negev where fog may be seen. The rest of the country is to experience a dry heat.
Wednesday will bring with it partial clouds in some regions, and a slight reduction in the temperatures, although it will remain well above seasonal averages.
Tzfat (Safed) in the north is expected to reach as high as 35 degrees (95 Fahrenheit) on Wednesday, Tiberias may hit 41 degrees (105.8), Haifa and Tel Aviv will both reach 32 degrees (89.6), while Jerusalem will hit 34 degrees (93.2).
The hottest areas are to be Ein Gedi on the Dead Sea and Eilat in Israel's extreme south, which are to see 42 (107.6) and 43 (109.4) degrees respectively.
On Thursday it will also be partially cloudy in some areas, and the temperatures will drop even further to the point of nearing seasonal norms.
But Friday is expected to clear with a rise in temperatures once again, even alongside a drop in humidity, in what may be another exceptionally hot day as the heat wave lingers.
The heat has affected crops as well as humans, with damage to Israeli crops estimated to the tune of millions of shekels.