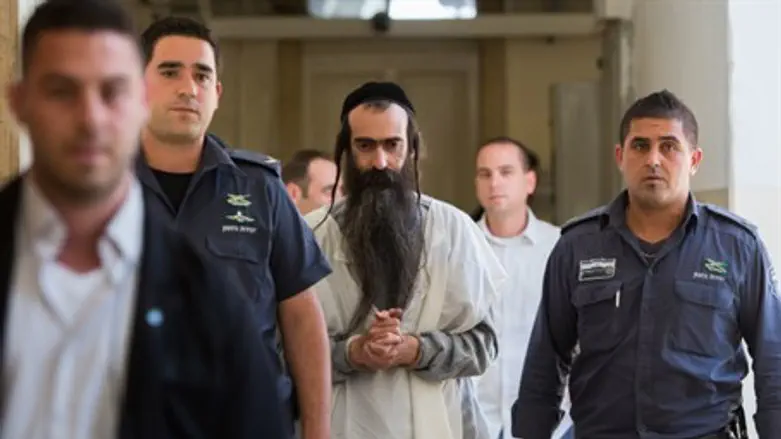 Center: Yishai Shlissel attending court hearing
Yonatan Sindel/Flash90
The mother of the Jerusalem Gay Pride parade stabber spoke to the press on Tuesday, expressing her sorrow at the attack and solidarity with the victims. 
"We think it's really a great tragedy," Rivka Shlissel, mother of two-time attacker Yishai Shlissel, stated to members in her family, according to Walla! News. "We regret this very much and pray for the immediate recovery of the victims." 
Meanwhile, the Central unit of the Jerusalem District Police is continuing to investigate whether any officials in the haredi sector - including Shlissel's relatives - knew about his intentions to attack marchers during last Thursday's event. Just weeks ago, Shlissel was released from Israeli prison for stabbing marchers during the 2005 Gay Pride parade in the capital - but his presence at the march somehow remained utterly unanticipated by police. 
Among other things, investigators are now examining Shlissel's incoming and outgoing calls from the day of the attack, and interrogating anyone linked to him or who tried to contact him, according to the news site. 
Meanwhile, police are critical of a decision by the head of the committee to examine intelligence failures at the gay pride parade, Maj. Gen. (ret.) Yisrael Yitzhak, which they say creates a conflict of interests. One of Yitzhak's appointments to the committee is Anna Ben Mordechai Raziel, Commander of the Mevaseret Zion station. The critics point out that Raziel serves under Jerusalem District Police Commander Maj. Gen. Moshe Edri, who will himself be under examination, and will thus have a hard time pointing out any mistakes he may have made, for fear of suffering retribution. 
Among other things, the committee will check whether police examined in depth any intelligence information regarding the dangers threatening the gay pride parade. It will also look into a possible lack of coordination between the police and the Israel Prison Service (IPS). 
Shlissel's stabbing spree injured five people and fatally wounded 16 year-old Shira Banki. Banki was laid to rest Monday in an emotional ceremony with thousands of people in attendance.