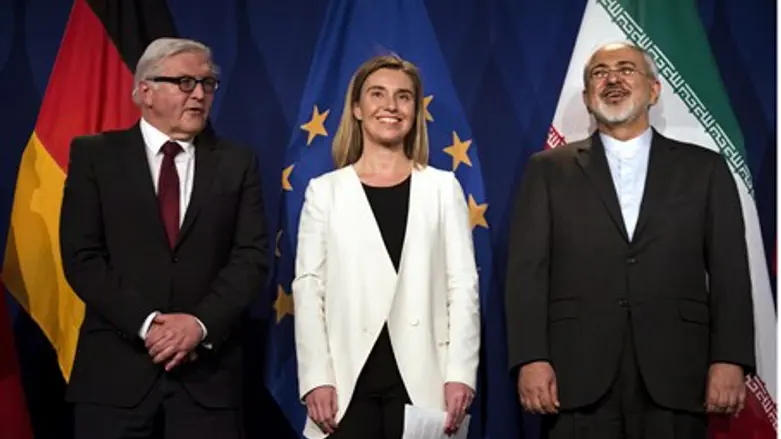 Iranian FM Javad Zarif (R) at press conference announcing nuclear deal
Reuters
Many Israeli ex-generals and former security chiefs have signed a petition urging Prime Minister Binyamin Netanyahu to accept the nuclear deal between world powers and Iran, which he strongly opposes.
A petition signed by the former officials and made public Monday calls the July 14 accord a "fait accompli." 
It urges the government to pursue a policy that would "restore trust and reinforce security and diplomatic cooperation with the American
administration." 
Doing so would "allow us to prepare to face the numerous challenges that will result from the agreement," the petition says.
The signatories include two former heads of the Shin Bet internal security agency, Ami Ayalon and Carmi Gillon; a former deputy director of the Mossad intelligence agency, Amiram Levin; the ex-chief of the Atomic Energy Commission Uzi Eilmann; and dozens of former generals and senior officers.
The deal, aimed at curbing Iran's nuclear program in return for international sanctions relief, has been welcomed by world powers as a
historic chance to set relations with Tehran on a new path.
However, Netanyahu has called it a "historic mistake" and argues that it will not block Iran's path to nuclear weapons.
He also says sanctions relief will allow Iran to increase support for proxy militants, which would lead to further destabilization of parts of the Middle East.
His government has been lobbying the US Congress to reject the deal, with lawmakers in the United States given 60 days to review it. The review period expires in September.
While some members of the security establishment have called on Netanyahu to accept the deal, others as well as politicians from across the political spectrum have spoken out against it.
AFP contributed to this report.