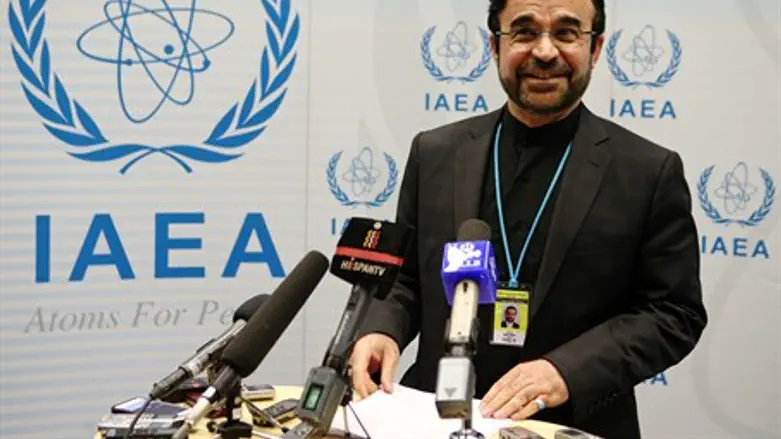 Iran's ambassador to the IAEA Reza Najafi
Reuters
Iran's envoy to the International Atomic Energy Agency, Reza Najafi, on Saturday voiced his objection to the United States Senate's demand to be briefed about the contents of the recently signed roadmap of cooperation between Tehran and the IAEA, reports the semi-official Fars news agency.
Najafi warned the UN nuclear watchdog to avoid disclosing its secret agreements with Tehran.
"The agreements signed between a member country and the IAEA are definitely secret and cannot be presented to any other country at all," he was quoted as having said in an interview with the Iranian students news agency.
Referring to the discussions in Congress about the deal between Iran and the six world powers, Najafi said, "The discussions revealed that the secret texts between Iran and the Agency have not even been provided to the U.S. administration."
"For the very same reason, they cannot be presented to the Senate members either," Najafi added.
In an interview with another Iranian news agency, the envoy said Tehran has already warned the IAEA chief against the repercussions of a disclosure of its agreement with the UN nuclear watchdog agency.
"Iran has clarified it to Amano that the text of its understanding with the IAEA cannot be presented to the Senate," Najafi reiterated, according to Fars.
He further warned that "the Agency knows what it means to disclose a secret document".
The comments come ahead of an upcoming meeting on Wednesday between IAEA chief Yukiya Amano and the Senate Committee on Foreign Relations.
Some members of Congress, which is considering whether to approve the deal, have asked that more information be made public relating to the IAEA's part in verifying Iran's implementation of the pact.
Congress has until Sept. 17 to accept or reject the agreement, though President Barack Obama has threatened to "veto any legislation" passed by Congress blocking the deal. 
Iran has continued its hostile rhetoric even after the deal with world powers was signed. Najafi on Friday accused the United States of violating the nuclear deal with his country, by making comments indicating that the accord would make any attack on Iran's atomic program more efficient.
On Saturday, the deputy head of the Atomic Energy Organization of Iran said the nuclear agreement will not bring a rapprochement between the U.S. and the Islamic Republic.
The official, Mohammad Ahmadian, said, "The U.S. hostility towards Iran has no ending and they attempt to strike a blow at the Islamic Iran all the time."
In announcing the deal, President Barack Obama called for a "different path" of "tolerance" from the Islamic regime.
However, following the deal, a top Iranian general has said the agreement makes Iranians "hate the U.S. 100 times more," and the deal was in fact reached the week after millions of Iranians took to the streets the Friday before chanting "death to Israel" and "death to America" while burning flags of both countries in an annual show of hostilities.