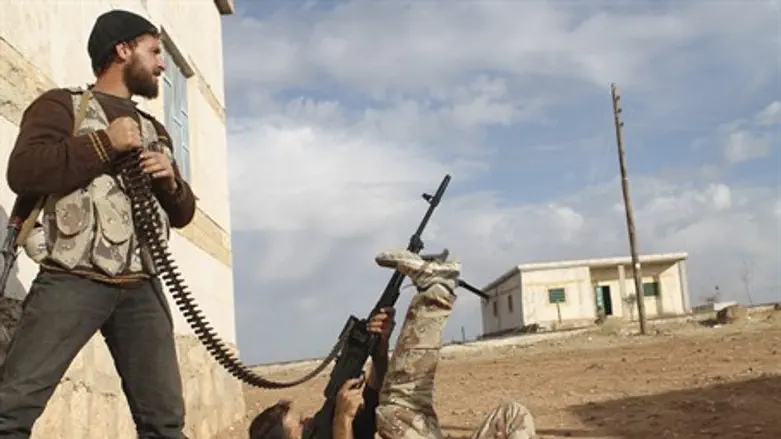 Syrian rebels in Aleppo
Reuters
A major Syrian anti-regime group, the Local Coordination Committees (LCC), announced Saturday it had quit the opposition in exile, accusing it of being undermined by internal conflict and manipulated by foreign powers, AFP reported.
In a letter to the Syrian National Coalition (SNC), the LCC denounced what it termed the SNC's transformation into "blocs linked to foreign forces", referring to Saudi Arabia, Qatar and Turkey.
"We wish to inform you that the LCC has decided to withdraw officially from the coalition," the group of activists said in a letter, a copy of which was seen by AFP.
"We had hoped that this political grouping, of which we are one of the founders, would realize the aspirations of the people and the principles of the revolution for which it has paid an unimaginable price," the letter said.
"Unfortunately, we have on several occasions noted its inability to undertake this mission," added the LCC which, through its network of activists across the country, has covered events since the beginning of the Syrian crisis in 2011.
The LCC denounced what it called "non-institutional" working methods and the creation of "blocs related to factors and external forces, which was the main reason for the outbreak of internal conflict over the personal ambitions of some members of the Coalition".
It called such conflict "shameful", adding, "We are ashamed... to see what has happened to the Coalition."
Since the outbreak in 2011 of the revolt against President Bashar Al-Assad's regime, the political opposition in exile has been unable to present a common front, beset by division and rivalry between its backers Riyadh, Doha and Ankara.
Over the past four years, the Syria conflict has caused more than 230,000 deaths and displaced half the population.
The Syrian National Coalition is the key political representative of Syria's opposition and is officially recognized by much of the international community.
It has participated in several rounds of failed peace talks, including two in Geneva, and insists that Assad must step down.
Most recently it declined an invitation from Russia to attend peace talks in Moscow with representatives of Assad's government.