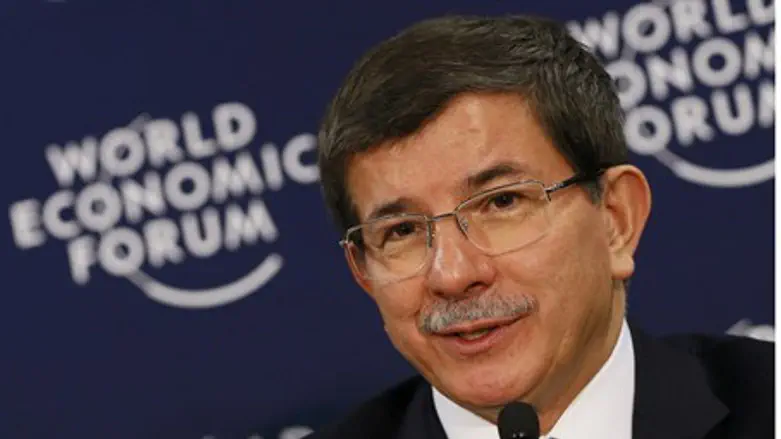 Turkish Prime Minister Ahmet Davutoglu
Reuters
Turkey has no plans to send ground troops into Syria but has agreed with the United States that air cover should be provided for moderate rebels fighting Islamic State (ISIS) forces there, Prime Minister Ahmet Davutoglu said Sunday night, according to Reuters.
Davutoglu was quoted as telling a round table with Turkish newspaper editors that while differences with Washington remained over some aspects of policy in Syria, there was enough common ground to reach agreement on opening up the air bases.
"An important point was the air cover for the (rebel) Free Syrian Army and other moderate elements fighting against Daesh (Islamic State)," the Hurriyet newspaper quoted him as saying.
"If we are not going to send in land units on the ground, and we will not, then those forces acting as ground forces cooperating with us should be protected," he said, according to Reuters.
Davutoglu was also quoted as saying that the Syrian Kurdish PYD party could "have a place in the new Syria" if it did not disturb Turkey, cut all relations with President Bashar Al-Assad's administration and cooperated with opposition forces.
Turkey has launched a two-pronged cross-border offensive ISIS jihadists and Kurdistan Workers Party (PKK) militants after a wave of violence in the country, pounding their positions with air strikes and artillery.
The Turkish army on Sunday blamed the PKK for a deadly car bomb attack that killed two of its soldiers in the Kurdish-dominated southeast.
The armed wing of the PYD has emerged as the only notable partner so far on the ground for the alliance fighting ISIS in northern Syria. But the advances by Syria's Kurds have alarmed Turkey, which fears they will stir separatist sentiment among its own Kurdish community.
Davutoglu's comments were made several days after reports emerged that Ankara had agreed to expand its cooperation with the United states in the fight against ISIS terrorists in neighboring Syria and Iraq.
The Wall Street Journal and Turkish dailies Zaman and Hurriyet reported that Turkey will allow the U.S. military to launch airstrikes against the fighters from Incirlik Air Base in eastern Turkey.