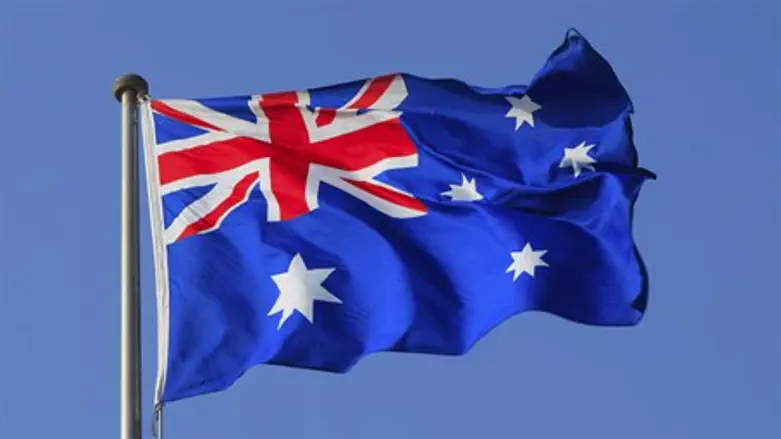 Australian flag
Thinkstock
Rivaling factions of Australia's Labor party, currently in opposition, agreed Sunday on a resolution that should the party come to power, it would consider recognizing Palestinian statehood, i24news reported.
The motion stipulated such course of action on a lack of progress in the currently stalled peace talks between Israel and the Palestinian Authority (PA), the report said.
"If ... there is no progress in the next round of the peace process a future Labor government will discuss joining like-minded nations who have already recognised Palestine and announcing the conditions and timelines for the Australian recognition of a Palestinian state, with the objective of contributing to peace and security in the Middle East," the document read.
The move, if implemented, would follow a flurry of such motions in Europe in recent months.
Britain was the first country to vote to recognize "Palestine". After Britain, Sweden announced it officially recognized the state of "Palestine". Spanish lawmakers have also adopted calling on the government to recognize a Palestinian state.
A similar vote is planned in Belgium, where legislators are working on a resolution to recognize a Palestinian state, though the government said last week any timing to proceed will depend on European Union action.
In December, Portugal's parliament adopted a resolution calling on the government to recognize a Palestinian state, though Portugal's Foreign Minister Rui Machete said after the vote the government "will choose the moment best suited" to recognize the Palestinian state.
Similar motions passed in France, Ireland, and Spain - but these moves are symbolic gestures and have little, if any, actual diplomatic effect.
The Palestinian Authority estimates that 135 countries have now recognized "Palestine" as a state, although that number is disputed.
Meanwhile, Liz Kendall, a candidate for the leadership of the British Labour party, last week said the party should not have voted in favor of the motion to recognize the Palestinian state.
Kendall argued that recognizing Palestine was not the "right thing to do" and argued that a "responsible opposition" would not have done it.
 "The way we achieve peace is through a two-state solution and negotiation, not through passing resolutions in the House of Commons or the United Nations," she said.