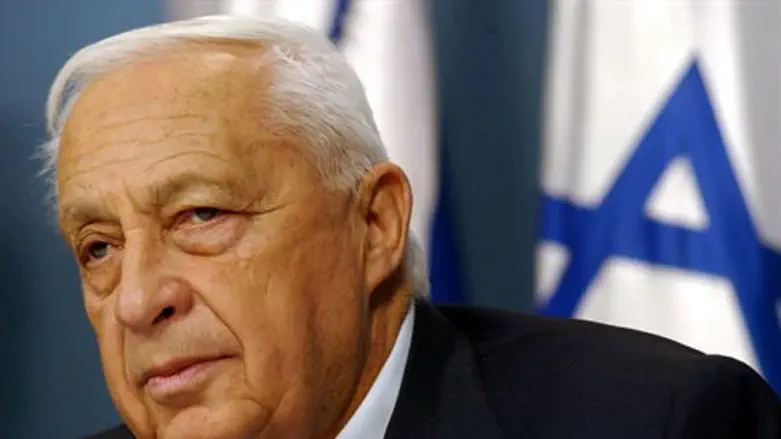 Ariel Sharon
Flash 90
Maj. Gen. Yair Naveh, who was the commander of Central Command during the Disengagement plan expelling Jews from Gush Katif in Gaza in 2005, stated that most of the General Staff at the time opposed the unilateral move, and feared that it would cause an increase in terror.
However, then-Prime Minister Ariel Sharon never consulted with the IDF over his plans to withdraw from the region, Naveh revealed Friday. 
Speaking on Reshet Bet, Naveh stated that if he refused to comply with the orders, Sharon threatened that he would ban religious IDF officers from being promoted beyond the rank of Lt. Cpt. within the 50 years following the Disengagement (i.e. until 2055). 
The 2005 "Disengagement Plan" resulted in some 10,000 Jews being expelled from their homes in Gush Katif and four villages in northern Samaria. This summer marks ten years since the expulsion. 
Right-wing politicians warned about the potential for a terror state being established in the power vacuum as Israel withdrew from the region - and within two years, their fears were fulfilled; Hamas was elected to power in 2007, making the region their enclave in the Middle East. 
Israelis have become highly embittered over the plan, whose aftermath has become especially relevant in light of ongoing pressure from the international community to withdraw from Judea and Samaria. 
A poll published in Maariv earlier this month showed that the vast majority of the public believes that the move represents a political, diplomatic, and domestic failure; last week, a similar poll noted that most Israelis support Israel retaking Gush Katif and rebuilding the homes and lives of the Jews who lived there.