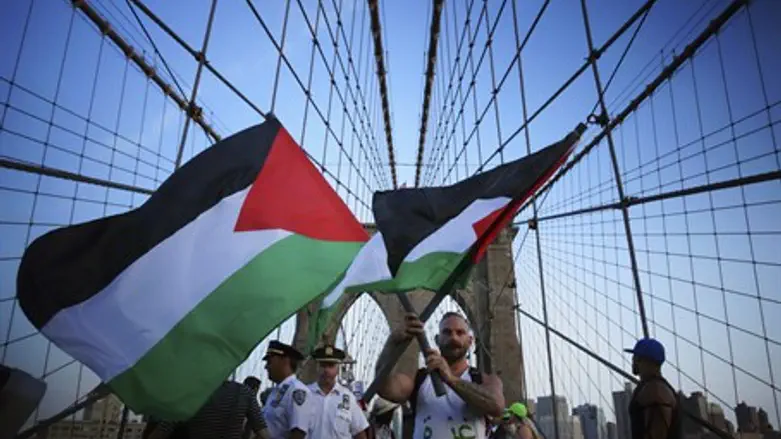 Anti-Israel protest (illustration)
Reuters
A Holocaust survivor who set up a pro-Israel stall at a trade union festival is saying he was hounded from the event by pro-Palestinian campaigners who called him a "Nazi", according to the Express website.
The survivor, Henry Schachter, set up the Bournemouth Action for Israel stand at the Tolpuddle Martyrs Festival in Dorset, in order to provide an alternative view to the anti-Israel Palestine Solidarity Campaign's (PSC) stall which regularly appears at the event.
But the 76-year-old said he and his colleagues were forced to retreat amid "intimidating and virulent" abuse by left-wing Palestinian supporters who were all white English people.
Schachter, whose Jewish parents were killed by the Nazis, said his group was compared to the BNP during last week's incident in which a "flashmob" threw pamphlets to the ground and tried to deface the stand.
He said he was jeered and booed during a speech and on the second morning was "advised" to leave by organizers over concerns for their stewards' safety, according to the Express.
PSC supporters were seen taking over the site of his stall after he left, the report said.
The Tolpuddle Martyrs Festival celebrates agricultural workers who set up the first trade union in 1834.
"As a survivor of the Holocaust it makes me feel disgusted and sad to be called things like a Nazi," said Schachter. "The Tolpuddle Martyrs Festival is exactly the place for people from different organizations to exercise freedom of speech."
"But it was anything but free speech. It was intimidating and virulent abuse by a flashmob of far-left bullies," he added.
A PSC spokesman said its members raised concerns with festival organizers "in a peaceful and proper way".
"A significant number of stallholders expressed their extreme displeasure with the fact that there was a pro-Israel stall there," he claimed, according to the Express.
Nigel Costley, the organizer of the festival, said, "We make a lot of effort to make this a family-friendly event. Our stewards had enough to do without trying to manage a debate on the Middle East at the same time."
The incident comes amid a growing trend of anti-Semitism in Europe in general and in Britain in particular.
The European Jewish Congress recently released a damning report revealing a spike in anti-Semitism throughout Europe, with the UK leading the way for the most anti-Semitic countries. 
Earlier this week, British Prime Minister David Cameron announced a proposal to combat the spread of Islamic extremism in England, which includes steps to counter the growth of anti-Semitic conspiracy theories and rhetoric.