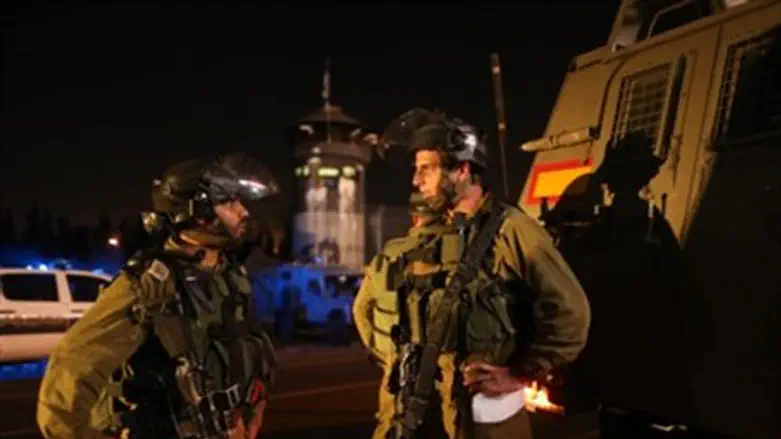 IDF soldiers
Nati Shohat/Flash 90
A physical altercation broke out early Thursday morning as IDF forces attempted to arrest a number of Palestinian terror suspects from the Beit Ummar village near Hevron. 
Soldiers from the Kfir Brigade arrived at the home of a Palestinian family to issue an arrest. Palestinian news agency Maan identified the house as belonging to Falah Hamad Zamel Abu Maria. 
When they arrived, Abu Maria and his sons began to physically attack the soldiers, even going so far as to try and strangle one of them. 
The IDF responded to the attack with gunfire; one of the men was hit in the chest while another was lightly to moderately wounded by a bullet to the leg. 
According to Maan, Abu Maria took two bullets to the chest. He was brought to a hospital in Hevron where he succumbed to his wounds. His 24-year-old son, Mohammed Abu Maria, is the one being treated for a gunshot wound to the leg, the hospital said. 
Channel 2 reported that the fatal shooting occurred when IDF forces were leaving the house, whereupon family members threw blocks at the soldiers. 
An Israeli army spokeswoman confirmed to AFP that during the raid to detain Mohammed, wanted on suspicion of security offenses, "forces were attacked by a violent mob."
"As the forces left the scene they were attacked once again by a violent mob who hurled rocks and bricks at them," she added. "The forces responded with fire towards the main instigator."
Beit Ummar is known as a hotbed of terrorism and virulent anti-Semitism. Villagers have repeatedly flown Nazi swastika flags over Highway 60, which passes alongside the village, to goad Jewish residents and motorists.