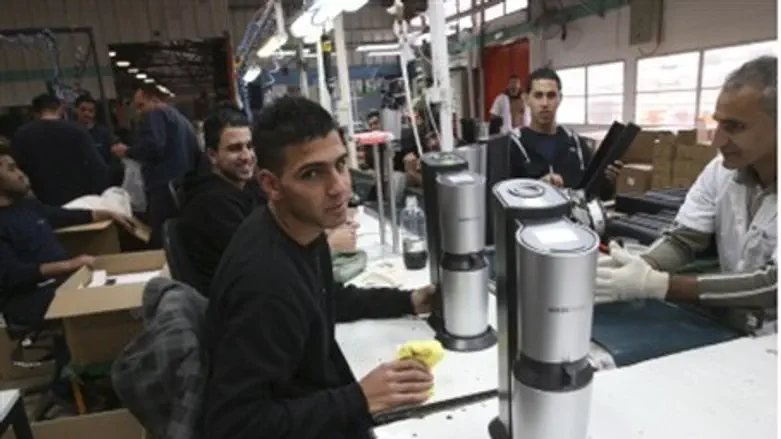 Arab factory workers (illustration)
Flash 90
A group of Arab residents of Samaria living under the administration of the Palestinian Authority (PA) has submitted a legal demand asking that Israeli employment laws be implemented in the area where they work - the industrial region of Nitzanei Shalom, just over the 1949 Armistice lines to the east of Netanya.
The reason for the suit is a desire on the part of the Arab workers to receive various social rights enshrined in the Israeli laws, benefits they currently do not enjoy under the PA.
However, a Tel Aviv-Yafo regional court ruled against the workers, deciding not to apply Israeli law to their work conditions. The Arab litigants were even forced to pay 20,000 shekels (over $5,200) for legal expenses and attorney's fees.
The Palestinians appealed to the national labor court, but to no avail: the court upheld the previous verdict.
According to the ruling the establishment of the factory in the region was a joint financial project between Israelis and Palestinian Arabs, and meant as an employment opportunity for Arabs. It was not an Israeli enclave of an Israeli community where Israeli law could be applied, ruled the judges.
The court further clarified that the sides had agreed to apply Jordanian law in the work contracts that were signed by the workers, and reasoned that Jordanian law has been in effect on the employment conditions of the workers.
It also became clear that of around 100 workers employed at the factory, only three Israelis were employed, two as maintenance workers and one as a security guard. The three Israelis worked in different positions than the Arab litigants, further harming their claim of similar inclusion under Israeli law and undermining claims of unequal treatment for workers at the same post at the factory.
Since 2008 the Palestinian Arabs working at the factory have been eligible for pay that is not to go below Israeli minimum wage.