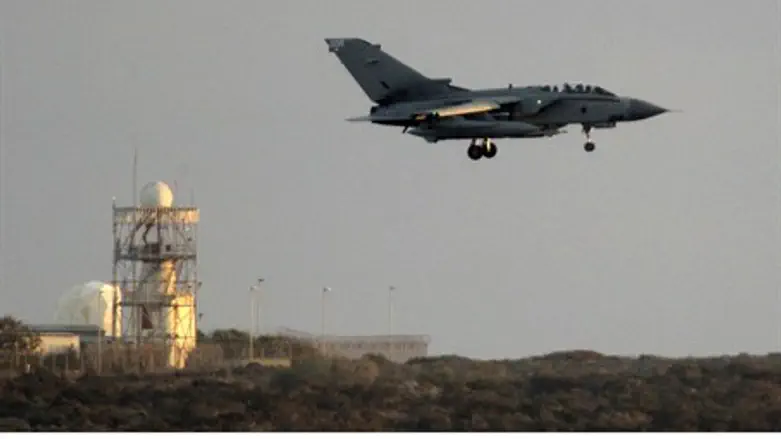 RAF Tornado fighting ISIS (file)
Reuters
Britain will send another spy plane to fly over Iraq and Syria in what Defense Secretary Michael Fallon called a "new Battle of Britain" Thursday, as it edges towards joining US-led air strikes in Syria.
Fallon announced Britain would take delivery of a new Airseeker plane next month, which would "shortly after" be deployed to carry out reconnaissance of suspected Islamic State (ISIS) group targets.
"Today, with more warnings of threats to our citizens in Tunisia following the horrific events of two weeks ago, we're fighting a new Battle of Britain," he said during a speech in central London. "Once again, against a fascist enemy, an enemy prepared to kill its enemies and civilians alike, it is the RAF spearheading our counter attack."
The Battle of Britain took place during World War II in 1940, pitching Britain's Royal Air Force (RAF) against its German counterpart, the Luftwaffe.
Eight British RAF Tornados based in Cyprus are carrying out air strikes over Iraq as part of US-led operations and Britain currently also has one Rivet Joint and two Sentinel spy planes flying missions in the region.
Days after 30 Britons were among 38 tourists killed by a jihadist on a beach in the Tunisian resort of Sousse last month, Fallon hinted that Britain's parliament could be asked to vote again on joining air strikes on targets in Syria.
He told the BBC that ISIS "has to be defeated in both Syria and Iraq" and that there was "an illogicality" about not being able to strike targets in Syria.
Lawmakers voted to join strikes on ISIS targets in Iraq last year but the government led by Prime Minister David Cameron did not seek support for taking similar action in Syria due to opposition from the main opposition Labor party.
Cameron favors exploring a second vote to gain support for air strikes in Syria later this year after Labor has elected a new leader in September who could give him the support he would need to get the move through parliament.
On Wednesday, two Brimstone missiles fell off a British Tornado as it landed at RAF Akortiri, a staging post for sorties and surveillance against ISIS group targets in Iraq, after a military operation.
AFP contributed to this report.