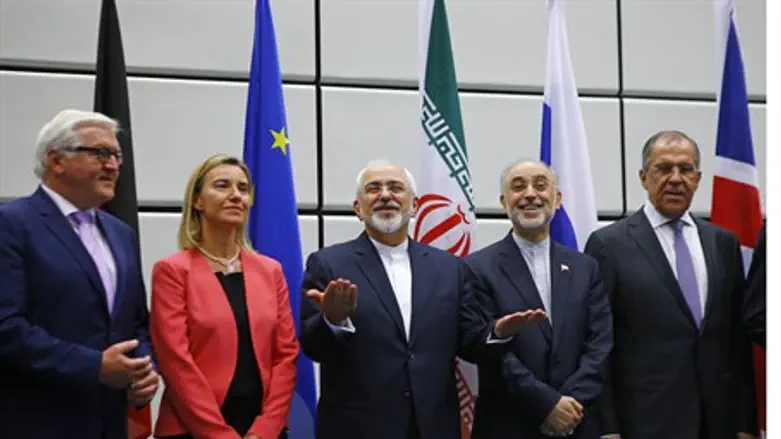 Mohammad Javad Zarif (center) and Ali Akbar Salehi with EU, German and Russian FMs
Reuters
An Israeli official argued to Israel Radio on Thursday that with just a little more pressure, Iran would have given in completely on its nuclear program. 
But, the United States and its international partners failed by not being tough enough on Tehran, and conceding too many points too quickly.
Iran, according to the official, was seriously "on the skids" - bankrupt to a degree far greater than Westerners realized.
Nearly a decade of sanctions had taken its toll, and without a lifting of the sanctions, the government there realized it would soon be likely swept away by angry Iranians, who, leaders estimated, were desperate enough to rebel even given the country's repressive political system.
With the nuclear deal, the pressure on Iran has been lifted, the official estimated, but had the US held out a little longer, Iran would have capitulated and agreed to dismantle its nuclear program altogether.
Speaking Tuesday, former Israeli Ambassador to the US, Zalman Shoval, said that far from being a failure, Prime Minister Binyamin Netanyahu's rigid stance against Iran had done a great deal of good.
"Israel conducted a campaign, of which we can say in concrete terms was successful," Shoval argued. "If not for the efforts of Prime Minister Netanyahu in recent years, the agreement would have been worse and we would not have remained informed about the process during preliminary talks."