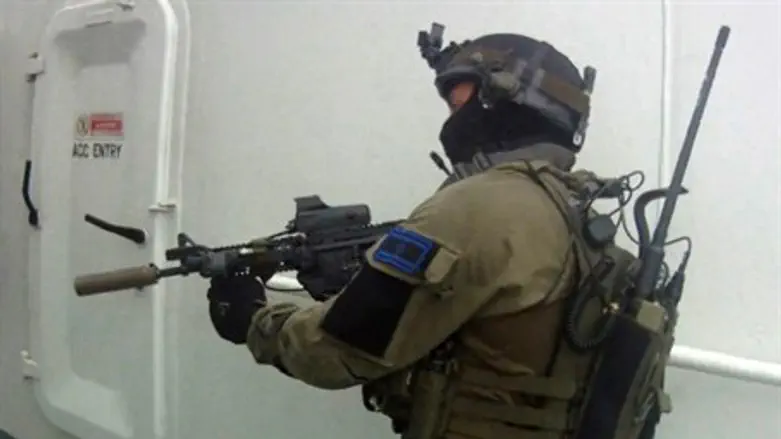 Israeli navy commandos in action (archive)
Flash90
Israeli commandos assassinated a top Syrian commander at a dinner party in 2008, before escaping by sea, according to a document leaked by former National Security Agency (NSA) contractor Edward Snowden Wednesday. 
Muhammad Suleiman, a Brig. Gen. in the Syrian army, was deeply involved in three primary areas, according to the document: internal Syrian political issues, sensitive military operations, and Lebanon, including contacts with Hezbollah.
He is suspected of being a prime player in the funneling of weapons from Iran to Hezbollah via Syria; he was also involved in building Syria's Al Kibar nuclear facility, which Israel destroyed in 2007.
On August 1, 2008, Suleiman was assassinated by "Israeli naval commandos" during a party in his home near Tartus, an incident the NSA labeled "the first known incident of Israel targeting a legitimate government official." 
Three US intelligence officers gave testimony in the report on condition of anonymity; they stated they knew about the incident through surveillance. 
"We've had access to Israeli military communications for some time," one of the officers said in the report, which first aired in the Intercept on Wednesday evening. 
Snowden is wanted by the United States on espionage charges after leaking a mass of secret NSA documents.
The 31-year-old fugitive is in asylum in Russia, where he has been granted a three-year residency that allows him to travel abroad.