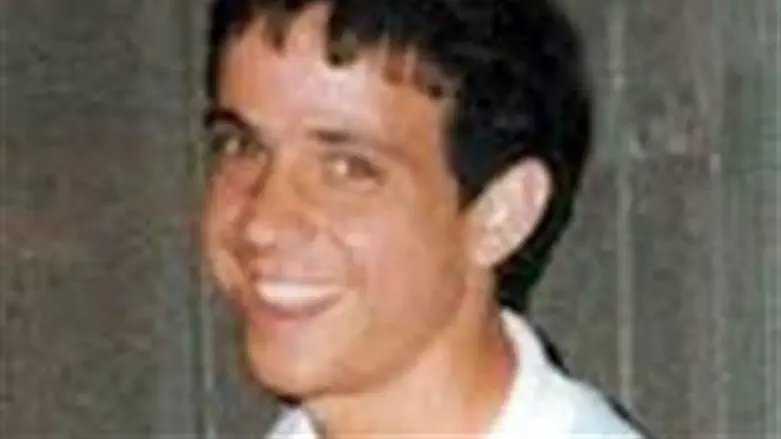 Nachshon Wachsman
Wachsman family
Once a prisoner in Israel serving a life term for numerous acts of terror – including, according to Israeli officials, organizing the kidnap murder of IDF soldier Nachon Wachsman – Hamas terrorist Yahya Sanuar is now a minister in the Hamas Gaza government. Sanuar is in charge of Hamas terrorists in Israeli prisons, and will be in charge of liaising with Israeli and international officials to lobby for their welfare.
Sanuar spent about ten years in Israeli prisons, and was released as part of the deal to free IDF soldier Gilad Shalit. He is one of the founders of Hamas' military wing, and, as mentioned, is thought to have been a central figure in the 1994 kidnapping and murder of Nachshon Wachsman.
Currently, Israel believes that Hamas is holding two Israelis – Avraham Mengistu and a still-unnamed Israeli Bedouin – as well as the bodies of two soldiers, Hadar Goldin and Oron Shaul, both killed in Operation Protective Edge last summer. Sanuar will be in charge of negotiating the exchange of Hamas terrorists for the bodies, as well as the hostages, although Hamas has denied that it is holding Mengitsu.
According to Israeli officials, Mengistu crossed the fence into Gaza last September due to mental illness and that the move was not in any way a deliberate security risk. According to reports, the IDF spotted him and attempted to stop him, but he ran across before he could be apprehended; Hamas arrested him upon his arrival in Gaza.
Last week, Hamas top terrorist Khaled Mashaal said that the group would demand that Israel release 71 terrorists who were arrested in recent months after being released in the deal to free Gilad Shalit in 2011 as the starting point for any discussions about anything. Hamas sees the re-arrest of these terrorists as a "violation" of Israel's obligations in the Shalit deal.
Of the 1,027 terrorists released to gain Shalit's freedom after five years in a Hamas hideaway, 477 were Hamas members. Despite a pledge not to engage in terrorism as a condition of their release, many returned almost immediately upon their release to terror activities, and 71 have been arrested so far – the latest just Wednesday night, when police nabbed a resident of of Abu Dis suspected of involvement in recent terror activities including throwing firebombs and other explosives at Israeli security forces. Hamas sees the re-arrest of these terrorists as a "violation" of Israel's obligations in the Shalit deal.