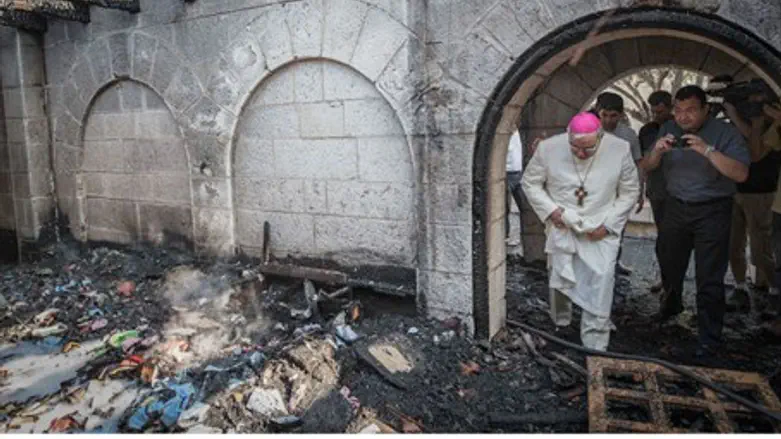 A priest inspects the damage at the Church of the Multiplication at Tabgha, on the Sea of
Photo by Basel Awidat/Flash90
Several suspects were arrested overnight Saturday/Sunday in the investigation of an arson attack against the a church in the Galilee last month, in a joint operation between the Israel Security Agency (ISA or Shin Bet) and the Israel Police. 
An "undercover and professional investigation began as soon as the church fire was discovered" and ended "this evening, with the arrests of those involved," the Israel Police announced Sunday morning. 
The Nazareth Magistrate's Court will determine the length of the suspects' detention on Sunday afternoon. 
The suspects' lawyers, attorneys Aaron Rosa and Adi Keidar, have filed urgent appeals on behalf of rights group Honenu to the Magistrate's Court against an order to prevent the suspects from meeting with their legal representation as well as against the arrests themselves. 
Rosa argued in the appeal that the orders were 'disproportionate' scare tactics not normally employed except in national security risk cases.
Sixteen individuals - apparently Jews from Samaria - were arrested over the arson last month, but were later released without charge.
Two separate churches were torched in the attack: the Tabgha Church of the Multiplication, which was also tagged with graffiti, and the Catholic Church of Capernaum. Both are located in the Tiberias area, near the Kinneret.