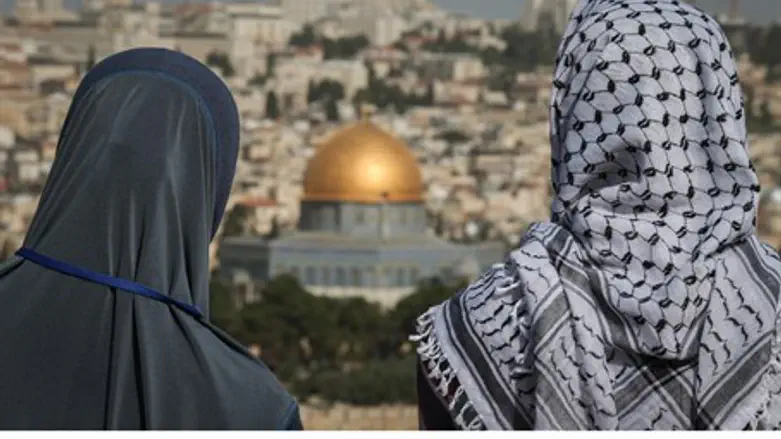 Arabs in Jerusalem (illustration)
Nati Shohat/Flash 90
Jewish visitors to the Temple Mount have been told repeatedly that they are banned from entering Judaism's holiest site due to Ramadan over the past several weeks - and one group plans to protest. 
Haim Brosh, spokesman for Students for the Temple Mount, spoke to Arutz Sheva on Wednesday about the situation. 
"Jews who arrived in recent days to the Temple Mount encounter unofficial notification, which no official organization has signed, which said that the Temple Mount would be closed until the end of Ramadan," Brosh fumed, emphasizing that the bulletins were printed out on a simple sheet of printer paper - but that Jews could be arrested for attempting to enter anyway. 
Brosh added that the Israel Police has no updates on the unofficial status change on the Mount, and suspects they are hiding information. An activist asked a police officer stationed on the Mount just before the Mount was unofficially closed off to Jewish visitors if a group of Jews could visit the site, and was told "yes." Soon after, groups began being turned away. 
"We knew that the police have been directed to deal with it before," he explained. "What we did not know is that on the seventeenth of Tammuz, when the people of Israel fasted over the siege of Jerusalem, a whole new siege would be started."
"Jews came from all over the country, waiting in the hot sun, and police did not tell them anything," he continued. "No one gave any answers." 
Brosh hypothesized that Arab websites inciting against Jewish sovereignty over the Mount, specifically during Ramadan, are to blame. 
"Shame on Israel's sovereignty if that's what set this off," he lamented. 
"We pass rigorous inspections, but they don't let us in, not even to pray...we just came to visit our holy place," he said. "On the other side stand people who are, shouting, swearing, attacking and bullying other Jews who come to the area."
In light of this, the Students for the Temple Mount movement is planning a massive protest for Tuesday at the Golden Gate in Jerusalem's Old City. 
"We only ask that during the Three Weeks, they give us a place to mourn the Temple's destruction," he said. "We do not ask for more than that, to pray for the rebirth of Israel."