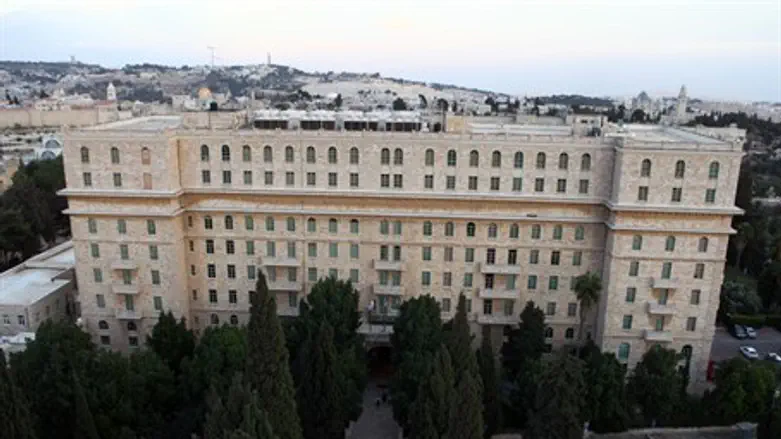 King David Hotel
Abir Sultan/Flash 90
An Egyptian government-owned bank has launched a five million shekel (around $1.3 million) lawsuit over its lost shares in Jerusalem's prestigious King David Hotel, which were bought before the establishment of the modern Jewish state in 1948.
Banque Misr, which has 500 branches in Egypt and around the world, filed its lawsuit via Israeli lawyers Ron Yeshayahu and Gil Makov at the Jerusalem District Court calling for the restoration of 1,000 stocks in the hotel, the Calcalist reported Monday.
King David Hotel, which is currently owned by Dan Hotels, is perhaps Israel's most famous hotel, and has hosted visiting presidents and prime ministers on numerous occasions. It was built by Jewish Egyptian businessmen in 1929, and as part of the initial investment Egypt's Zilka Bank purchased 1,000 shares.
Zilka Bank was merged with another bank in the 1960s when then-Egyptian President Jamal Abdel Nasser nationalized the Nile state's banks, thereby created the current Banque Misr.
The Israeli government has yet to submit a defense against the lawsuit.
Banque Misr made a previous bid for its shares in 2008, at which time the state rested its case on a Supreme Court ruling that accepted the position of the hotel's custodian, which argued that the stocks are absentee property that had transferred to its authority according to the laws concerning absentee property.
However, the new lawsuit claims that the Supreme Court ruled the custodian must transfer to the stockholder the compensation that it received from the sale of the stocks, if it is proven that there is no doubt that the plaintiff has rights to the stocks.
The 2008 attempt by Banque Misr came after Arab Israeli lawyer Ashraf Jasser told the bank it has rights to the hotel shares.
Jasser was tasked by the bank with filing a lawsuit, but he cheated the bank by claiming that submission of the suit cost ten million shekels (roughly $2.6 million) in court fees. He paid the actual court fees of 975 shekels ($258) and stole the rest of the money.
For his theft and fraud, the Arab lawyer was sentenced to nine years in prison by the Haifa District Court two years ago.