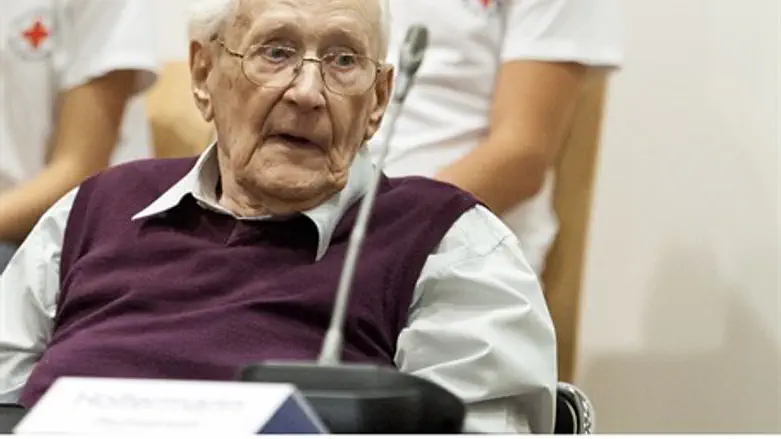 Oskar Groening in court
Reuters
Oskar Groening, who has been nicknamed "the Bookkeeper of Auschwitz", admitted his guilt on Wednesday for his role in the Nazi machinery that sent millions to their deaths, a day before closing arguments in his trial were postponed due to his bad health.
According to The Independent, Groening, who is charged with 300,000 counts of accessory to murder, told the Lueneburg court in northern Germany that he was not entitled to ask for forgiveness from anyone but God.
"I've consciously not asked for forgiveness for my guilt. Regarding the scale of what took place in Auschwitz and the crimes committed elsewhere, as far as I'm concerned I'm not entitled to such a request. I can only ask the Lord God for forgiveness," he said in a statement read by his lawyer in court and quoted by The Independent.
It is the second time the 94-year-old has admitted "moral" guilt since his trial started in April.
According to the report, Groening added that hearing survivors' stories had brought a new emotional impact to the Holocaust for him.
"This trial has made clear that they had suffered their whole lives because of their experiences in Auschwitz and the loss of countless relatives," he was quoted as having said.
"I am aware that my role in the prisoners' property department in Auschwitz has made me complicit in the Holocaust, even if my part in it was small," said Groening, who added, "I have already acknowledged my guilt and I continue to do so."
At the same time, noted The Independent, the former SS sergeant maintained in his statement that he had participated in the notorious selection process only a handful of times, as well as emphasizing his administrative role – and claimed he made several attempts to be transferred.
On Thursday, presiding judge Franz Kompisch said Groening had unspecified "significant health problems" which would delay closing arguments in the trial, AFP reported.
The trial "cannot continue without him," Kompisch said.
As a heat wave sent temperatures in the courtroom soaring, Kompisch noted that Groening had seem "weak" on Wednesday and had not recovered, after a hearing in which 84-year-old Auschwitz survivor Irene Weiss described in searing detail how the Nazis had decimated her family.
"He is weaker than ever," the judge added, citing Groening's lawyers.
Kompisch had said he hoped to deliver a verdict by the end of July but noted Thursday that Groening's "shaky health" could scupper that deadline.
The delay marks the second time in just over a month that a session in the trial was postponed due to Groening's failing health.
In recent years, Germany has begun a crackdown on Nazi war criminals. The crackdown began following the 2011 Munich trial of John Demjanjuk, a Nazi war criminal charged of assisting in the murder of 28,060 people at the Sobibor death camp and sentenced to five years. The former Nazi died in 2012.