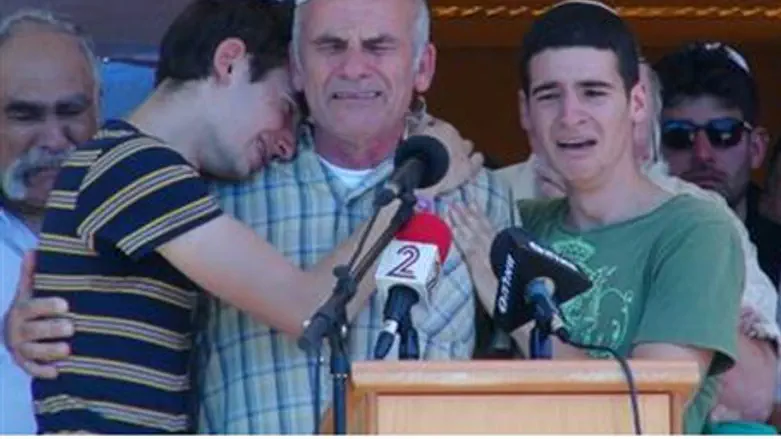 The bereaved family of Malachi hy"d
Arutz Sheva
Eliezer and Sara Rosenfeld, the parents of 26-year-old Malachi, who was fatally wounded by an Arab terrorist who shot him and his three friends as they returned home from a basketball game Monday night, spoke publicly on Kol Hai radio on Wednesday night.
The Rosenfeld family has already buried another son. Thirteen years ago, on March 29, 2002, Lt. Yitzchak-Menachem Rosenfeld, 22, was killed in a jeep accident in the Tze'elim Stream, in the Judean Desert. He was a pilot in the IAF.
Yitzhak-Menachem was named after his uncle, Sergeant Yitzhak-Moshe Rosenfeld, who was also killed during his military service in 1978.
Eliezer began by relating to his spontaneous song during Malachi's funeral earlier Wednesday, noting music was a way for him to cope.
"When I received the news of the death of my brother in military service in the Sinai 37 years ago, I was with him together in Yeshivat Ma'alot, and it was hard to concentrate on my studies after that," Eliezer said. "From the tremendous pain I started to realize the dream of playing and singing, I started to play at weddings, other celebrations ever since." 
Sara was asked how she is dealing with the grief for the second time, and replied, "it's a question I ask myself. I always feel that there's a gap between what the mind knows and what the heart does not want to believe."
"Judaism is a very smart religion," she reflected. "During the shiva [seven-day initial mourning period - ed.] you are so wrapped up in people [visiting - ed.] that you don't have the ability to understand and to think. It's something I feel that we have struggled with so much to keep our joy." 
"After Yitzhaki was killed, we had two more children," she added. "We were not so young anymore, but we acted out of the will and faith to teach our children that life really does go on." 
Now, she said, the second death has left her more crushed and shaken. 
"But as Eliezer said, I think we do not know...we just know how to live with faith and joy. We have no other way to live life. "
"I hope that the Almighty will give us the ability to feel this," she continued. "We must find a way to raise the children in the belief that life is a good life, and a good and happy life. We will move on together." 
The bereaved father wanted to send a message. 
"It seems to me that the message of Malachi is to increase the love you have for your family," Eliezer said. "Every child knew that the house of his parents and siblings is the best and dearest place. To sharpen the connections and love between siblings, to share conversations with parents about 'what happened to me' and 'how I feel,' to increase love between parents and children." 
"It's to have cooperation, as my dear wife knows how to sensitively to reach every child...to weave a special relationship among all family members," he added. "Every child feels the safest place is home." 
"I wish the people of Israel will take this message of my dear Malachi."