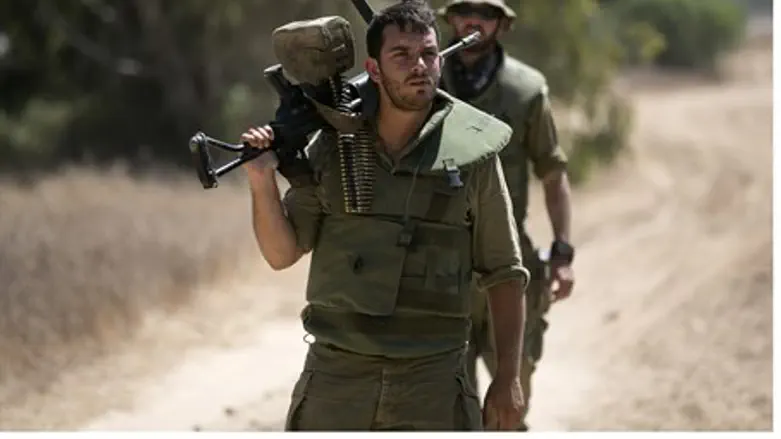 IDF soldiers (file)
Reuters
A female resident in the Jewish town of Adora, located to the west of Hevron in Judea, had the alertness and presence of mind to thwart an attack on Wednesday afternoon.
The resident spotted an Arab who had breached the security fence of the town and infiltrated into the community.
She quickly contacted the town's security squad, which together with IDF forces succeeded in capturing the suspected terrorist.
He is currently being investigated in an attempt to clarify the details of the incident.
The latest incident comes on the heels of a long string of terrorist attacks ever since the Muslim fast month of Ramadan began in mid June.
On Monday a female Arab terrorist stabbed a female Border Patrol guard at Rachel's Tomb adjacent to Bethlehem in Judea. The officer was critically wounded but her condition later stabilized, and the terrorist was arrested.
Later on Monday a shooting attack near Shvut Rachel north of Jerusalem in the Binyamin region of Samaria left four Jews wounded. One of the victims, Malachi Rosenfeld, later died of his wounds.
And then on Tuesday a terrorist attack was thwarted as an Arab charged at a security checkpoint screaming "Allahu Akbar" (Allah is greater), before being shot and neutralized by IDF forces.