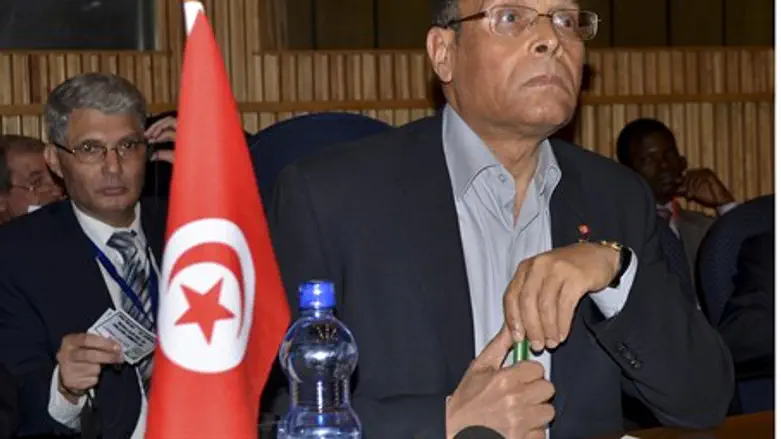 Tunisian President Moncef Marzouki
Reuters
Israel deported Tunisian ex-president Moncef Marzouki and European parliament member Ana Miranda on Tuesday after they took part in the anti-Israel flotilla destined for Gaza. 
"The (former) president of Tunisia and the Spanish lawmaker flew this morning. There are another 14 who have begun the expulsion process," a spokeswoman for Israel's immigration authority told AFP.
Israel had on Mondaycommandeered the Swedish-flagged Marianne of Gothenburg, part of the so-called Freedom Flotilla III, and accompanied it to the port of Ashdod.
Sixteen foreign nationals were on board along with two Israelis, MK Basel Ghattas (Joint List) and a television reporter. The two Israelis have been released, though Ghattas could face a parliamentary hearing on whether he should face sanctions.
The so-called "Freedom Flotilla 3", which set sail from Crete on Friday, has been backed by the European Campaign to Break the Siege on Gaza. Members of the European Parliament, journalists, athletes, artists, as well as radical leftist Israelis will be on board. 
The flotilla was the latest in a series of attempts by activists to break the naval blockade on Gaza, imposed by Israel after Hamas violently took control of Gaza from rival Fatah in 2006.
The most famous of the flotillas was the 2010 one involving the Turkish Mavi Marmara, which claimed to be providing "humanitarian aid for the people of Gaza."
The ship repeatedly defied orders to turn around and dock at the Ashdod port and ignored repeated warnings to change course, forcing IDF troops to board the vessel - only to be attacked by Islamist extremists on board wielding knives and metal bars. The wounded soldiers had no choice but to open fire, resulting in the deaths of ten of Islamists on board.
After an investigation, Israeli authorities discovered the vessel to be carrying no humanitarian aid - in fact, no aid supplies at all - indicating how the true goal of the provocative move was to open Gaza to free naval access, which it has consistently used to smuggle in weapons to be targeted against Israel.