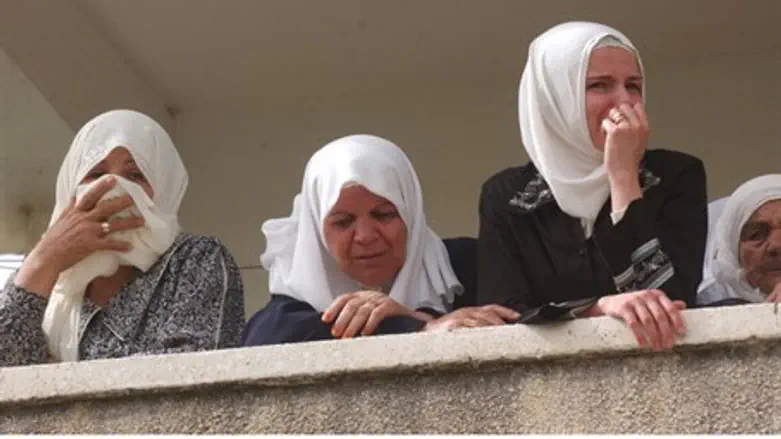 Muslim women (illustration)
Flash 90
The Islamic State (ISIS) group has beheaded two women in Syria on accusations of "sorcery," the first such execution of women in Syria, the Syrian Observatory for Human Rights monitor said Tuesday.
"The Islamic State group executed two women by beheading them in Deir Ezzor province, and this is the first time the Observatory has documented women being killed by the group in this manner," Observatory chief Rami Abdel Rahman said.
The Britain-based monitor said the executions took place on Sunday and Monday and involved two couples.
In both cases, the women were executed with their husbands, with each pair accused of "witchcraft and sorcery."
The Observatory said ISIS has previously decapitated the corpses of Kurdish female fighters during battles, and the jihadist group has become infamous for gruesome executions and has stoned women to death on allegations of adultery on numerous occasions.
In one case last October, ISIS made the father of a woman accused of adultery stone his own daughter to death and filmed the incident, which included heartbreaking scenes of him refusing to forgive her for the allegations against her.
But the Observatory said this was the first time it had documented the group beheading live civilian women, noting that the executions were done publicly.
According to the monitor, ISIS has executed more than 3,000 people in Syria in the year since it declared its Islamic "caliphate" in Syria and Iraq. Nearly 1,800 of them were civilians, including 74 children.
The Observatory also said Tuesday that ISIS has punished at least eight people in recent days for allegedly failing to fast during the Muslim month of Ramadan by hanging them from makeshift crosses.
The eight were all strung up alive on crucifixes with placards attached to them accusing them of breaking the Ramadan fast "with no religious justification."
Among the eight were two minors, the Observatory said, adding that while it had documented eight cases, there might be others that have not been reported.
Observatory chief Abdel Rahman said the eight were hung from the crucifixes for a day and taken down afterwards still alive.
AFP contributed to this report.