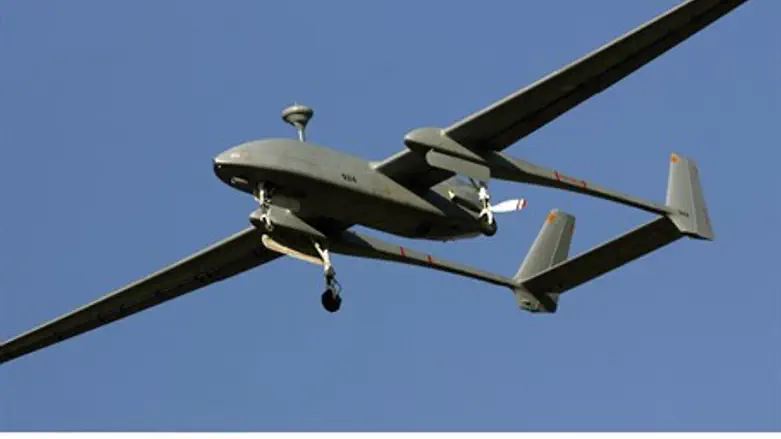 Unmanned drone (file)
Reuters
An unmanned aerial vehicle (UAV) from Gaza, apparently belonging to the Hamas terrorist organization that rules the coastal enclave, breached Israeli airspace on Thursday afternoon.
The drone crossed over the security border in southern Gaza, but soon thereafter fell to the ground even before the IDF decided whether or not to shoot it out of the sky.
IDF engineering corps forces retrieved the vehicle in order to inspect it and investigate its capabilities.
The Israeli Air Force (IAF) emphasized that throughout the security incident the drone was being closely monitored and posed no direct threat.
Fighter jets were launched and rushed to the area out of fear that the drone may have been armed and intended to conduct an attack, or else was conducting surveillance and gathering information in preparation for an attack. However the drone fell to the ground without a shot being fired.
Hamas has in the past stated that it has drone capabilities and is working to develop them further. Roughly half-a-year ago Hamas held a military parade in the streets of Gaza, which was accompanied by drones.
The latest incident comes just days after a rocket was fired from Gaza on Tuesday night shortly after 10 p.m., with the missile striking empty ground in the Ashkelon region and causing no damage.
The IDF responded by taking out the rocket launcher used in the attack later the same night.
Aside from developing a drone arsenal, Hamas has been advancing its domestic missile program, and likewise has been busily siphoning off construction materials to rebuild its terrorist attack tunnels into Israel in preparation for its next war against the Jewish state.