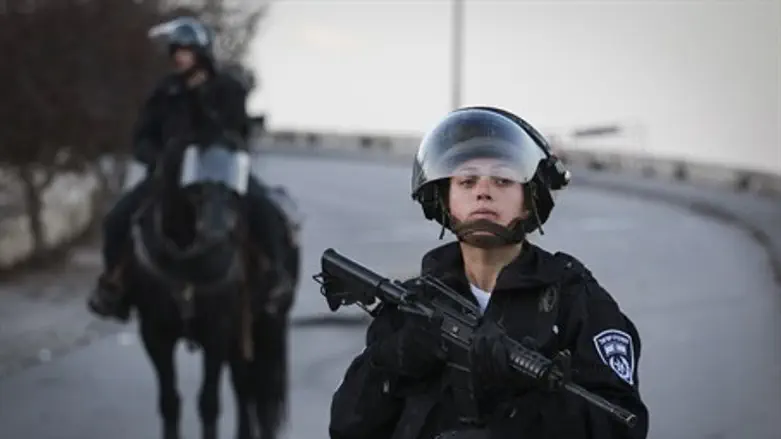 Female Border Patrol officer
Hadas Parush/Flash 90
Mohammed Salaimeh, an Arab terrorist who tried to run down and kill five female Border Patrol officers in Jerusalem on the day the city celebrates Purim, agreed to a plea deal on Thursday.
Instead of life imprisonment, the usual punishment for attempted murder, Salaimeh was sentenced to a total of 25 years in prison.
According to the indictment filed against Salaimeh, he left his family's home in the Ras al-Amud neighborhood of Jerusalem and drove his car on Highway 1, heading southwards.
When he arrived at the Border Patrol headquarters in the Shimon Hatzadik neighborhood, he saw the officers standing in a crosswalk, at which point he backed up, slammed on the gas and ran over the officers together with a bicyclist.
According to Salaimeh's lawyer, Mohammed Mahmud, his client deserved a plea bargain, despite the fact that the indictment clearly indicates intent, opportunity, and means, usually sufficient for an attempted murder conviction.
"This is a 'normal' family that was never involved in security matters before, and none have even been involved in throwing rocks," he said. "The family was not aware of what their son planned to do."
As for Salaimeh himself, said Mahmoud, "he had very strong complaints against the government and the way Arabs are treated by the city. He had a very hard time finding work, as do many Arabs in the eastern parts of Jerusalem."
"Not that I justify this action, but I believe that the government must do more to help residents of Arab neighborhoods of the city."
In general, parole boards in Israel take off a third of a prisoner's sentence for good behavior, unless they are involved in extraordinary violence in prison. As a result, the 22 year old could be out of prison well before his 40th birthday.