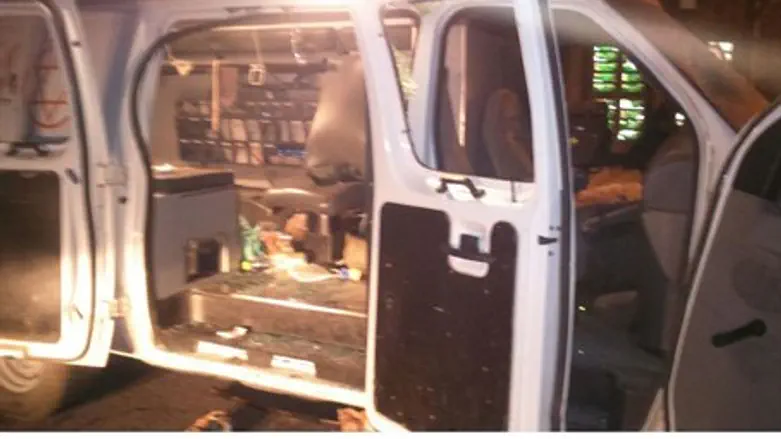 The ambulance that was attacked
IDF Spokesperson's Unit
The Israeli Druze ambush on an IDF ambulance carrying wounded Syrians on Monday night was carefully pre-planned, an IDF soldier who was at the scene stated Wednesday. 
Several reports indicated that there was an incident near Mt. Hermon, on the Syrian border, the soldier added - and, in retrospect, it could have been a precursor to the ambulance attack. 
Meanwhile, security sources continue to investigate the incident, which left one injured Syrian dead. 
"According to our initial findings, the soldiers acted exceptionally in this incident, which could have ended in a far more terrible tragedy," a senior security source told Maariv. 
The biggest mistake found so far, according to the security official, was that the gates to the Neve Ativ village were not closed after the IDF ambulance fled there for cover; Neve Ativ is just outside where the rioting began, in Majdal Shams. The gap allowed the masses of angry Druze to rush in and surround the ambulance. 
He added that the ambulance was being escorted by a military guard - and that the Military Police on duty were allowed to open fire to stop the mob, but were ultimately correct in refraining from doing so. 
Both Syrians being escorted to Ziv Hospital in Tzfat for treatment were in serious - but not critical - condition upon arrival into Israel, but the delays caused by the riots did worsen their injuries, he said - causing one to die. 
Earlier Wednesday, ten Israeli Druze were arrested for their involvement in the attack, which has been widely described as a "lynching." 
Several of those arrested are suspected of having attacked the ambulance near Majdal Shams in the Golan, where one of the wounded Syrians on board was murdered by the assailants, while others are thought to have attacked another ambulance in a previous incident near Hurfesh.
On Tuesday it was revealed that an IDF soldier may havepassed information on to Druze villagersand thereby set off the attack.