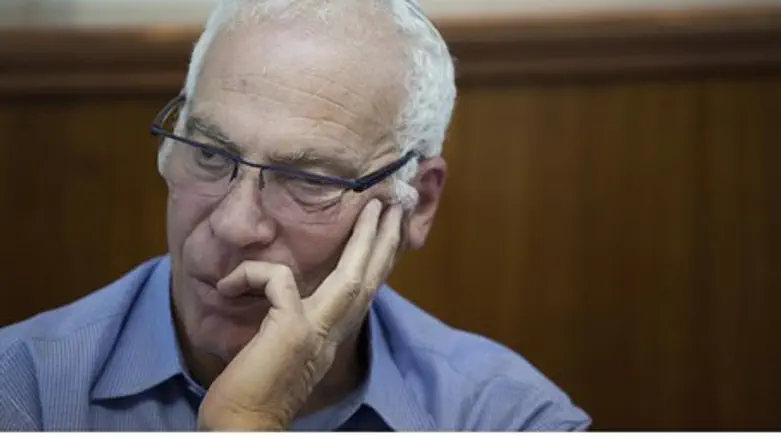 Uri Ariel
Yonatan Sindel/Flash 90
Agriculture Minister Uri Ariel (Jewish Home) announced Tuesday that the radical leftist NGO B'Tselem will be barred from the national service program, after it contributed allegedly false testimony to the new UN report charging Israel with "war crimes."
Ariel, who is responsible for the National Insurance Institute that supervises the national service program, took action against the group which is one of ten radical groups that wrote to the attorney general last July to raise "concerns about grave violations of international humanitarian law" in the war against Hamas in Gaza.
B'Tselem was a key source for the claims of "war charges" against Operation Protective Edge in the new UN report, charges Israel has dismissed as false, noting the report does not take into account how Hamas embedded its terrorist infrastructure in civilian populations to cause casualties and the extraordinary steps Israel took to avoid deaths.
Israelis excused from the obligatory military draft can volunteer for civilian community service instead, giving them benefits similar to those granted to army veterans.
Ariel said Tuesday he had given orders that volunteering with groups seen as hostile to the state would no longer be recognized as national service.
"Is the state of Israel supposed to finance those who work against it...against its soldiers? There's a limit," he told public radio.
"It's not just B'Tselem," he added. "It's not just one organization, there may be others and it applies to them as well."
B'Tselem spokeswoman Sarit Michaeli told AFP that while the group was quoted "quite extensively" in the UN report, the group had never sent any evidence to the commission.
"We didn't actually submit anything to the commission...but we're very proud of our research into Protective Edge."
Last August, the government's national service commission told B'Tselem it was being blacklisted as an employer of its volunteers, but the assistant attorney general forced it to back down.
AFP contributed to this report.