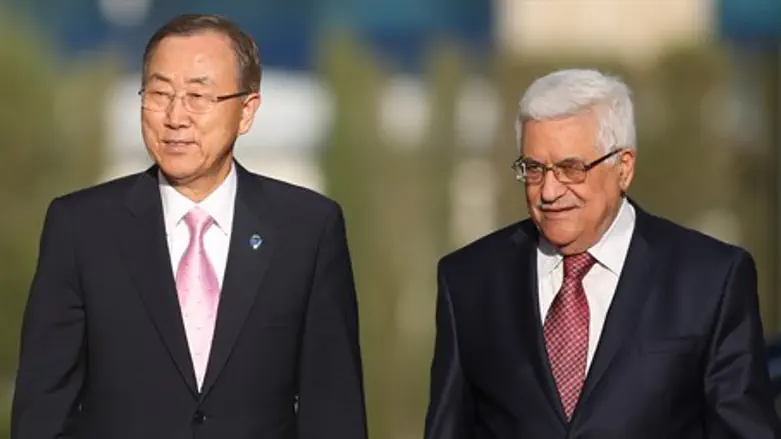 Ban Ki-Moon and Mahmoud Abbas
Flash 90
The Palestinian Authority (PA) on Tuesday warmly welcomed the new UN Human Rights Council (UNHRC) report, which accuses Israel of "war crimes" in last summer's war against Hamas, a day after it was released.
Ahead of its plan to sue Israel at the International Criminal Court (ICC) over "war crimes," the PA said it views the UN report as an important weapon in the legal battle it is waging against the Jewish state.
Ibrahim Khraishi, the representative of "Palestine" at the UNHRC, said that the PA intends to submit to the council a proposal to adopt the new report.
Khraishi said in an interview that the proposal will be submitted after the new UN report is officially presented at the UNHRC next Monday in a meeting open to all member states.
The goal of the PA is to obtain an official approval of the report by the UNHRC, said Khraishi, so as to use it in suing Israel on the international stage.
He emphasized that UNHRC adoption of the report is of the highest importance for it will allow the PA to use it at the ICC against Israel.
Israel has responded that the new report, which relied heavily on claims by radical Israeli NGOs, did not present the full context of last summer's war and suffers from acute bias, ignoring how Hamas embedded its terror infrastructure in civilian centers so as to put civilians in the line of fire.
Leading US military experts and generals have slammed the report as being inaccurate and a distortion of events.