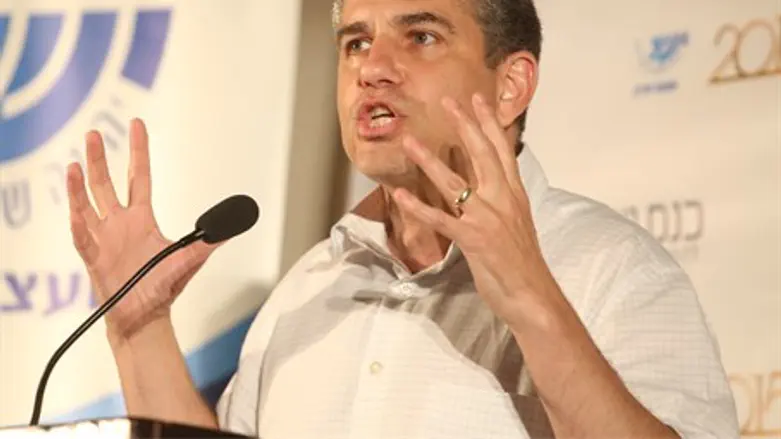 MK Yinon Magal
Miri Tzachi
The recent UN report blasting Israel for alleged "war crimes" during Operation Protective Edge in Gaza has sparked the revival of the Associations Law in the Knesset, after the report was funded in part by several extreme leftist Israeli non-governmental organizations (NGOs). 
MK Yinon Magal of the Jewish Home party - which sponsored the bill during the last Knesset - resubmitted the proposed law to the Knesset on Tuesday morning, stipulating that any NGO receiving funding from foreign governments will be charged higher taxes. 
The bill did not become law during the last government as it did not pass its third and final reading in the Knesset, amid stiff opposition particularly from left-wing and Arab parties.
Israeli rights campaigners have cautiously supported the law in the past - particularly given the major role played by foreign-funded NGOs in supporting the anti-Israel movement - although many have said it does not go far enough, noting western countries such as France actually possess far stricter laws against hostile foreign-funded NGOs.
According to this proposal, any NGO which receives more than $50,000 in foreign funding will be labeled a 'foreign association,' and will be charged taxes to the tune of 37% on all foreign government donations. 
"A foreign association is a corporation which states in any official document, web page, signage or advertising that it is supported by a foreign government," reads the bill.
In addition, NGOs will be required to indicate their affiliation with any foreign governments on every document and report, in order to ensure transparency for donors.
The bill would also limit the government and the IDF's own cooperation with foreign NGOs. This is a new aspect unique to this bill, which is one of many bills seeking to bar or limit foreign funding which have been introduced over the past five years. 
"Among other things, the following arrangements between [foreign NGOs and the government] are included in this bill: budgets, national service regulations, organizing conferences and seminars, and joint publications."

Magal's proposal follows support for the revival of the NGO bill from several top officials following the report, including Education Minister Naftali Bennett (Jewish Home) and Im Tirzu chief Matan Peleg.