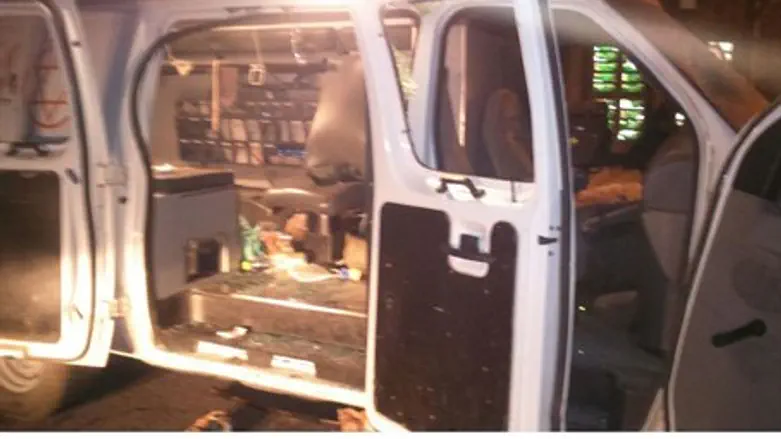 The ambulance that was attacked
IDF Spokesperson's Unit
A crowd of dozens of Israeli Druze attacked an IDF ambulance on Monday night, as it passed through Majdal Shams toward Kiryat Shmona carrying wounded Syrian refugees to care in Israel. 
The Druze threw rocks at the ambulance, resulting in the death of one of the wounded Syrians. The condition of another wounded Syrian who was in the ambulance was listed as critical.
Two IDF soldiers were lightly injured in the incident. All three injured were taken for medical treatment at the Ziv Hospital in Tzfat.
Dozens of Druze began rioting at the site of the attack, and large forces from the Border Police and the IDF were summoned to break up the riot.
The incident was the second of its kind in 24 hours. On Sunday night, residents of Horfesh, in the Galilee, attacked a military ambulance that passed near their town and which was carrying two people who were wounded in the Syrian civil war to a hospital.
The Druze suspect that the casualties were jihadists, who were fighting their Druze brethren in Syria, but IDF officials stressed after Monday night's incident that the two wounded Syrians who were in the ambulance were not members of Al-Nusra Front, the Syrian rebel group which is affiliated with Al-Qaeda.
"The IDF does not, under any circumstances, assist either party to the conflict, and only deals with humanitarian cases," said a senior officer.
Prime Minister Binyamin Netanyahu on Monday night urged Israel's Druze community to restore calm after the incident.
"We will not allow anyone to take the law into their own hands, and not allow anyone to interfere with IDF soldiers who are doing their jobs," Netanyahu stressed. "We will severely judge those who break the law. I call on the leaders of the Druze to act immediately to calm the situation."