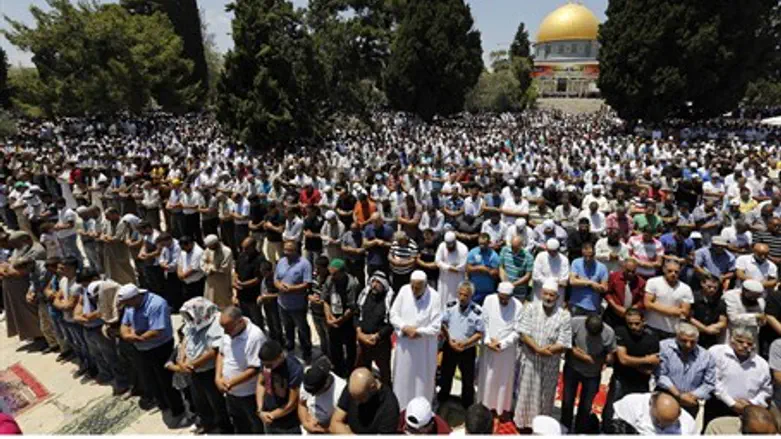 Ramadan prayers in Jerusalem (illustrative)
Reuters
Some of the "gestures," or concessions, that Israel gave Palestinian Arabs for the month of Ramadan have been cancelled following the stabbing of a Border Policeman in Jerusalem Sunday, and the murder of a Jewish man in Samaria Friday.
Prime Minister Binyamin Netanyahu and Defense Minister Moshe Yaalon instructed the defense establishment to cancel entry permits into Israel for all residents of Sa'ir, the village near Hevron from which the stabber came.
In addition, 500 permits to fly abroad through Ben Gurion Airpost were canceled.
The Defense Ministry announced last Tuesday that it is making unprecedented "gestures" and is letting in hundreds of Arab residents of Gaza, Judea and Samaria to pray at the Al-Aqsa Mosque on the Temple Mount – the holiest site in Judaism – for the Muslim month of Ramadan.
Arab men aged over 40 and all Arab women in Judea-Samaria will have access to the Mount, and 800 Arab residents of Gaza will be allowed in for Friday prayers. Another 500 Arabs in Judea-Samaria will be let into Gaza, and 300 Palestinian Arabs living abroad will be allowed into Gaza to visit family..
"For the first time, the arrival of worshipers will be allowed via bus directly from the city centers to the Temple Mount," Maj. Gen. Yoav Mordechai announced, indicating that Arab residents of Judea and Samaria will have direct access from their cities in a "first," with security checks presumably being conducted there by Palestinian Authority (PA) security forces.