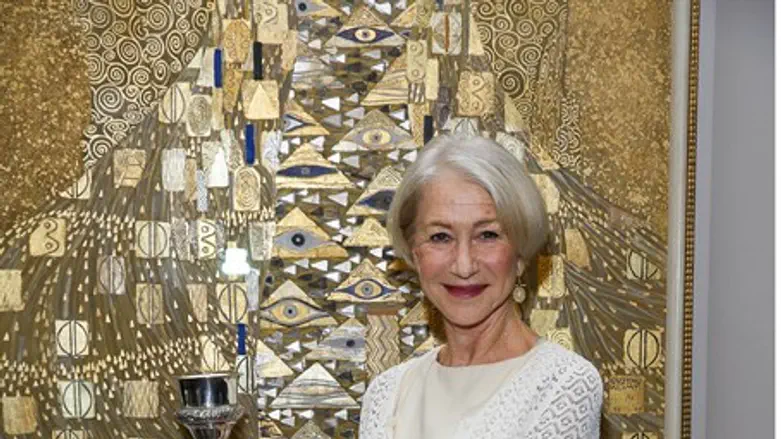 Helen Mirren in front of "Woman in Gold" painting
Shahar Azran
Academy Award-winning actress Helen Mirren was presented with a Recognition Award by the World Jewish Congress on Friday, for her role in the acclaimed film "Woman in Gold."
The WJC Recognition Award, which honors outstanding individuals working on behalf of the Jewish people, was presented to Mirren by WJC President Ronald S. Lauder at a ceremony in New York's Neue Galerie.
"Woman in Gold" traces the story of Maria Altmann, the Austrian-American woman who made headlines in her battle with the Austrian government to reclaim five Gustav Klimt painting stolen from her family during World War II. 
The paintings, including "Portrait of Adele Bloch-Bauer I," nicknamed "Woman in Gold," were restored to Altmann, played by Mirren in the film, in 2006. Acquired by Lauder, "Portrait of Adele Bloch-Bauer I" is now on display at the Neue Galerie in Manhattan.
"Being a part of this film and preserving Maria Altmann's legacy has been a truly exceptional experience from the start," Mirren told attendees of the ceremony.
"I am utterly moved to receive this award from the World Jewish Congress, an organization that does such important work all over the globe in advocating for Jewish rights."
"The history of the 'Woman in Gold' painting exemplifies the immense suffering, painful loss and, for a prolonged period, the injustice that many Jews were subjected to during the 20th century," Lauder said. 
"Thanks to Helen Mirren's stunning performance – which really electrified this issue – the international public will learn about this legacy of World War II which still hasn't been addressed properly by many governments and museums."
credit: Shahar Azran
credit: Shahar Azran