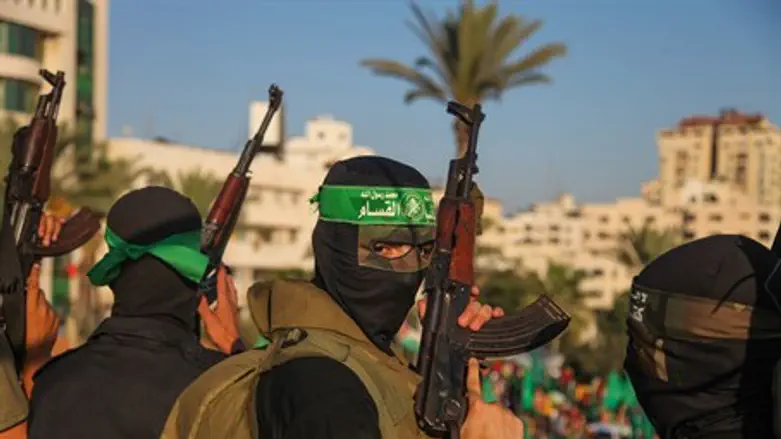 Hamas terrorists
Emad Nassar/Flash 90
The Hamas terrorist group on Friday welcomed the shooting attack near the town of Dolev in the Binyamin region, in which 25-year-old Danny Gonen was murdered and another man was wounded.
"We welcome the unique and heroic operation that took place near Ramallah," said Hamas spokesman Husam Badran. "We, and with us all our people, view with the utmost respect and appreciation those pure hands who held on to the resistance and turned their fire toward the occupier."
"Israel and its supporters delude themselves if they think the crimes against our people will continue without a response from the resistance," he added.
According to investigators, the two victims of Friday's attack were finishing a trip to a nearby spring and had begun leaving when a Palestinian Arab standing at the side of the road waved them down, apparently asking for help.
As soon as the Israelis' car pulled up he asked them for water, and then shot them at point-blank range and fled the scene.
Prime Minister Binyamin Netanyahu said earlier on Friday evening that Israel will find the terrorist responsible for the shooting.
"The signs on the ground indicate that the shooting incident today near the community of Dolev was a terrorist attack. We are working to identify whoever carried out the attack," Netanyahu said.
"We should not let the relative quiet deceive us," he warned, adding, "The efforts to attack us continue constantly, just as we are operating constantly to prevent attacks with all the tools at our disposal."
President Reuven Rivlin said the attack is "another step in the quiet and serious escalation in acts of terrorism we have witnessed in recent months."
"We will not accept a situation in which a young hiker has his life taken from him in the land of Israel, because he is Jewish. Security forces will work tirelessly to bring to justice those responsible for this cruel and brutal act," declared Rivlin.
(Arutz Sheva's North American desk is keeping you updated until the start of Shabbat in New York. The time posted automatically on all Arutz Sheva articles, however, is Israeli time.)