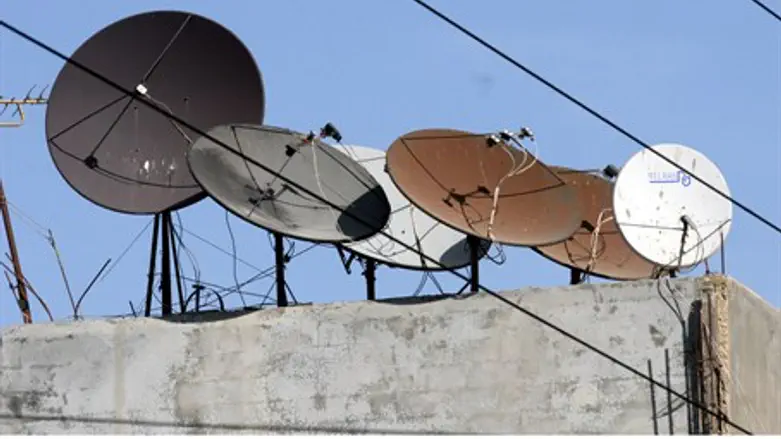 Satellite dishes
Flash 90
Prime Minister Binyamin Netanyahu, who is also acting Communications Minister, has ordered the Communication Ministry's Director General Shlomo Filber to shut down a new television station funded by the Palestinian Authority and operating in Nazareth.
"Palestine 48" is directed specifically at Israeli Arabs, broadcasting propaganda to enhance their "Palestinian identity."
Netanyahu ordered Filber to examine the legality of the PA's funding of the station, and to examine further violations of Israeli civil and criminal law that the station is likely guilty of.
The station is currently using a studio in northern Israel for production. According to PA Communications Minister Riad Hassan, the broadcasts themselves are transmitted via satellite from PA-controlled areas, so there is no violation of Israeli law. 
"If Netanyahu wants to close down the station, he is going to have to come to Ramallah, and if we does we will have an appropriate response," Hassan asserted. 
Hassan said that the station would broadcast "even if it does not please the government of settlers that Netanyahu leads. We want to present a platform for Israeli Arabs to introduce themselves to the Arab world, to show them their culture and the difficulties they face." 
"The PA will continue to support this channel, and we are considering setting up a terrestrial broadcast channel as well that will operate in Israel. There is no intent here to challenge the existence of Israel or the rule of law," he said.