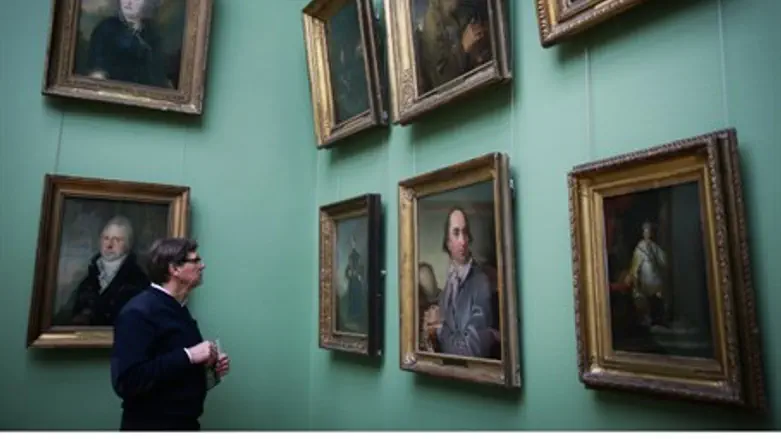 Art (illustrative)
Hadas Parush/Flash90
Israel's first museum of Arab contemporary art opened on Wednesday with a mission to promote peace - and will be open to Arabs and Jews alike.
Founders of the Arab Museum of Contemporary Art, a joint project in cooperation with the mayor of northern Arab-Israeli town of Sakhnin, said it aims to promote "peace and dialogue," according to AFP. 
An old Arab-style building nestled among greenery in Sakhnin in the Galilee region, which has a mixed Jewish and Arab population, houses the exhibits.
The opening exhibition, Hiwar (dialogue in Arabic), featured works from paintings to sculptures to video art, by dozens of local and internationally acclaimed artists.
A painting by Afghan-German Jeanno Gaussi entitled Moghul Dream displayed a historical-style south Asian landscape.
Outside, another work, a set of traffic lights connected to an electrical supply, read "Love" when switched to green.
"We found Sakhnin to be a suitable place for the museum, it being right in the heart of Galilee," co-director Belu-Simion Fainaru told AFP.
"We're involving artists from the region, and setting it up here will develop art in the area and will put contemporary art within reach of the
masses, Arab and Jewish alike."
Fainaru and co-director Avital Bar-Shay worked closely with Arab Sakhnin mayor Mazen Ghanayem to open the museum, which they say will emphasize multiculturalism.
"The aim of establishing the museum was for the world to get to know our artists - and there are so many here - and so that art in the region could develop and stimulate cultural and economic movement," Ghanayem said.
"Art knows no boundaries, and transcends international borders, is removed from politics and brings people together in hope of peace," he said.
The museum's opening surfaces at a critical time for Israeli art, which has become the center of a conflict between politicians and leftist artists who claim the government is guilty of censure.