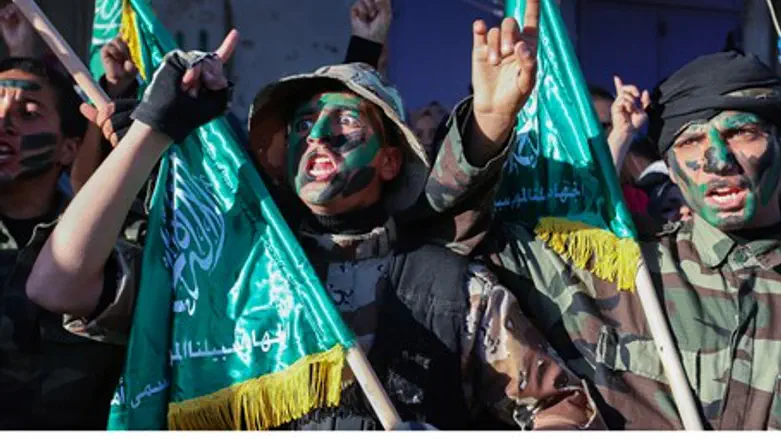 Hamas supporters near Rafah in Gaza
Abed Rahim Khatib/Flash 90
An Israeli source confirmed on Tuesday night there had been indirect contacts between Israel and Hamas, hours after sources in the terrorist group said Israel and Hamas have been holding indirect contacts about ideas for cementing a long-term truce in Gaza.
"There are contacts with Egypt and other elements over an easing of the blockade and the entry of materials to Gaza in exchange for quiet," the Israeli source told AFP.
"But Hamas is finding it difficult to control Islamic Jihad and other elements in order to do this," he said, referring to the recent flurry of sporadic rocket fire from Gaza, most of which have been claimed by a small Islamic extremist group bent on challenging the ruling Hamas movement.
A source with Hamas told AFP earlier that the contacts with Israel have gone through a number of Arab and European channels in a bid to firm up an informal ceasefire agreement that took hold last August, ending a 50-day war in Gaza started when Hamas escalated its rocket attacks on Israeli civilian centers.
"There has been indirect contact between Israel and Hamas, messages passed via Arab channels as well as through European and Turkish sources," one of the sources said, describing it as "an indirect exchange of ideas."
The Egyptian-brokered truce came into effect on August 26, with the sides pledging to resume indirect contacts within a month to pin down a lasting ceasefire and discuss crunch issues.
But the follow-up talks were delayed several times and never formally resumed.
"We are ready for an agreement. Hamas wants to solve the problems in Gaza," the source said. But he insisted the contacts were purely informal and that there was no formal initiative or proposal on the table.
Tuesday's report confirms an earlier report from May which said the sides were holding secret negotiations on finding a way to deliver goods more efficiently to Gaza.
Those reports described the talks as being directly between Israel and Hamas, and taking place in various European capitals, under the authority of Turkey.
Even as it negotiates an extension of the ceasefire, Hamas has been secretly rebuilding its terrorist attack tunnels into Israeli territory and developing its domestic rocket arsenal for its next attack against Israel; last summer's war was the group's third attempt to destroy the Jewish state.